Tescan MIRA 3 GMU – TIMA X field emission scanning electron microscope (FESEM) with an EDAX Octane Elect energy dispersive X-ray spectrometer, EDAX TEXS wavelength dispersive X-ray spectrometer, EDAX DigiView electron backscatter diffraction detector, and a Tescan panchromatic cathodoluminescence detector.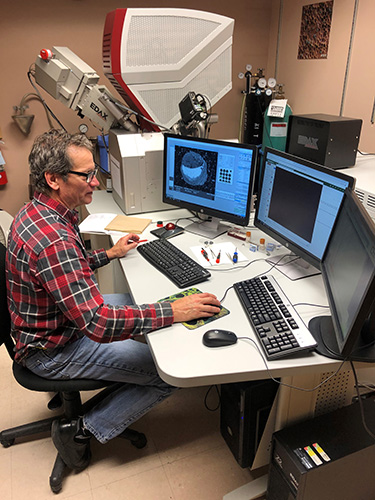 Thermo iCAP-6500 Duo View
Rigaku Ultima IV, with HT 1500 high temperature attachment, (up to 1500 °C). Can be operated in air, gas, or vacuum.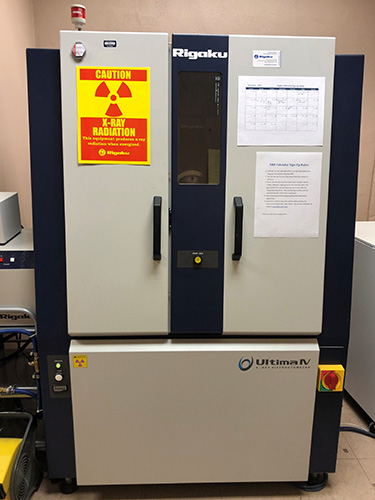 SPECTROMAXx Arc Spark Optical Emission Spectroscopy (OES) Stationary Metal Analyzer. Equipped to provide the bulk chemical composition of aluminum, steel and titanium.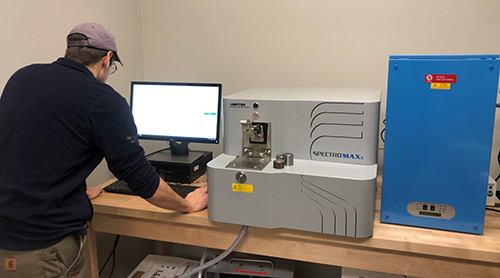 TA Instruments SDT-650 for Differential Scanning Calorimetry (DSC) and Thermal Gravimetric Analysis (TGA)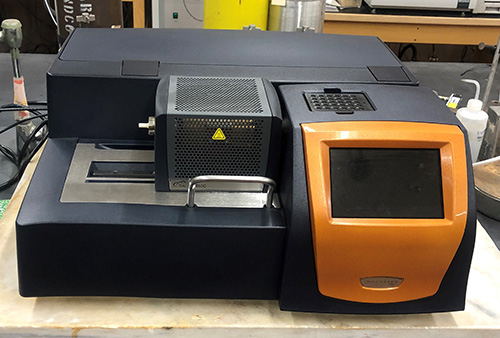 TA Instruments Q500 Thermal Gravimetric Analyzer (TGA)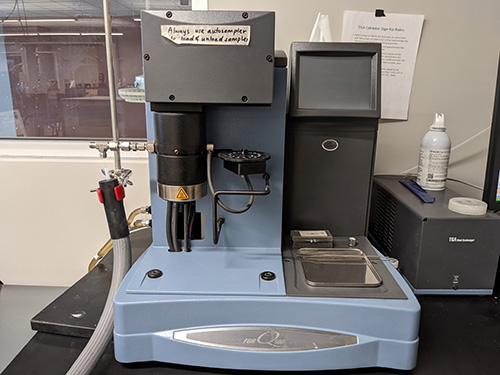 Netzsch DIL 402C Push-Rod Dilatometer for Coefficient of Thermal Expansion (CTE)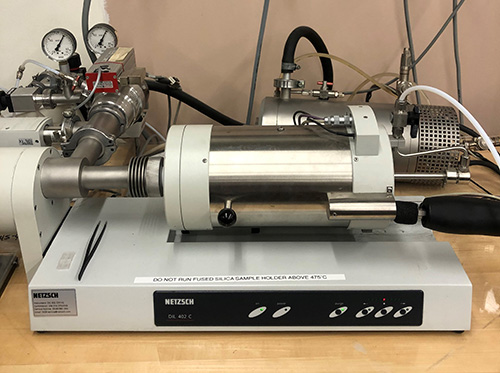 Materials Laboratory Equipment
Mechanical Testing Lab Equipment
Instron 3369 11 kip (11,250 lbf) (50 kN) tabletop mechanical test frame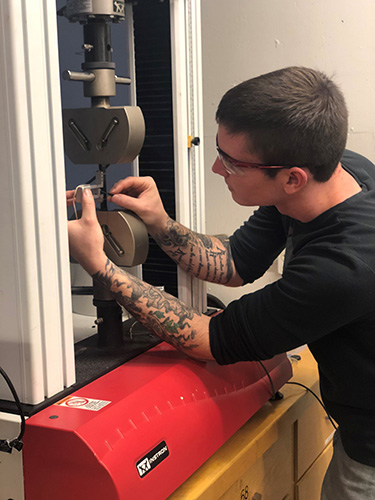 MTS Landmark 55 kip (55,000 lbf) (250 kN) floor-standing mechanical test frame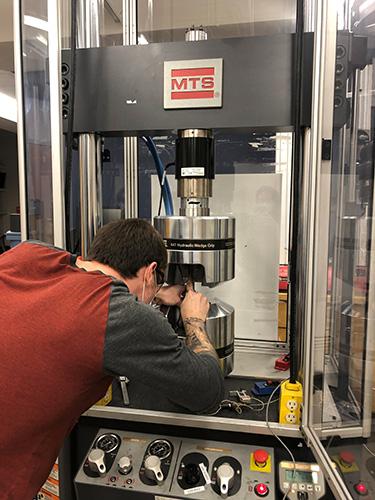 TA Instruments Q800 Dynamic Mechanical Analyzer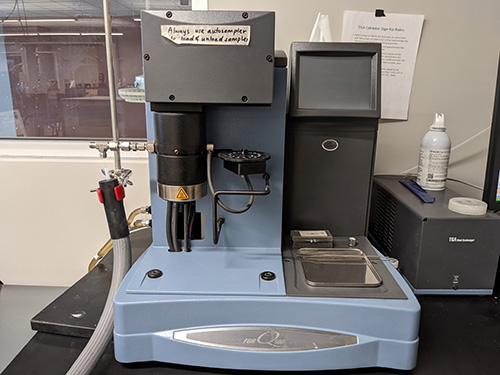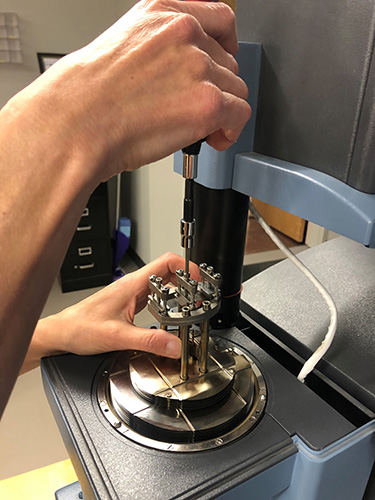 Tinius Olsen, IT 542, Charpy configuration with 542 J (400 ft•lbf) maximum available energy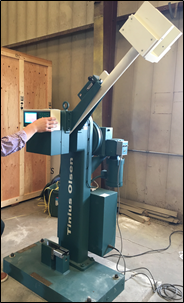 REL SURE-Test System, with heating chamber (up to 500 °C)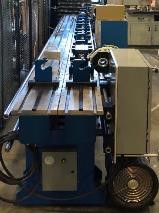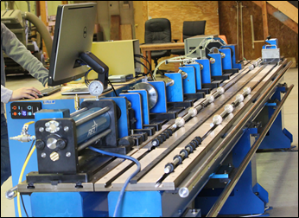 TecQuipment SM1090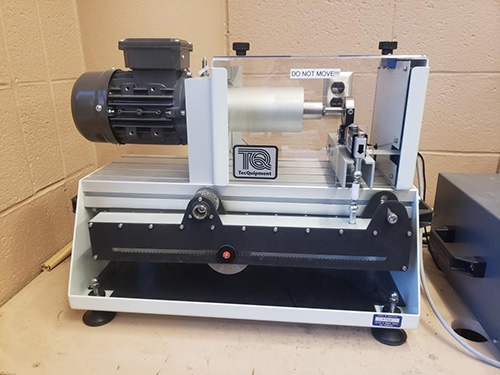 Mituyoto Hardmatic HH-334 Durometer, for Shore D hardness of composites, plastics and rubber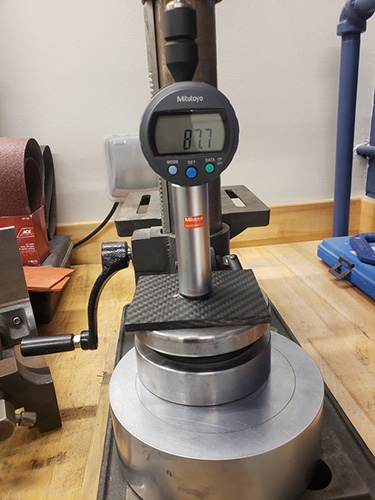 Mineral Processing Lab Equipment
Crushing by Sturtevant Laboratory roll crusher, jaw crusher, Marcy Gy-Roll gyratory crusher for mineral applications, and Hosokawa Systems granulator for plastics, electronics recycling and biochar applications.
Grinding by Titan ball and rod mills, BICO bond mill, Sturtevant jet mill (micronizer) and Union Process attritor mill.
Titan Processing Equipment Limited Rod Mill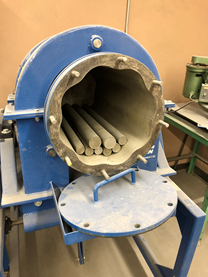 Union Process Attritor Mill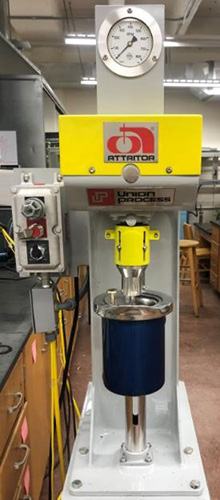 Splitting by Jones type riffle splitter and Sepor 24" rotary sample splitter.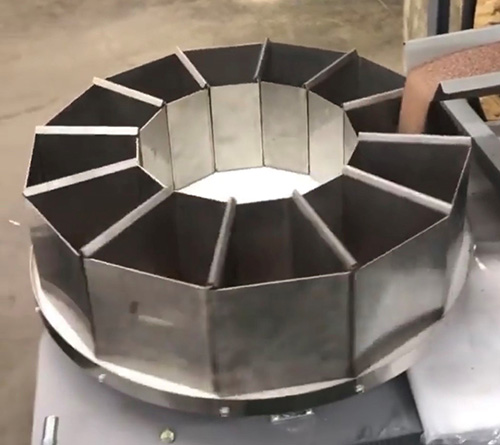 Flotation by Wemco Laboratory Floatation Cell, Denver Laboratory Floatation Cell, Montana Tech Hi Fidelity Fully Instrumented Flotation Cell, and Eriez 3" Column Flotation Cell.
Classification by FLSmidth hydrocyclone test rack and custom cross flow separator (hydrosizer).
Cross Flow Separator (Hydrosizer)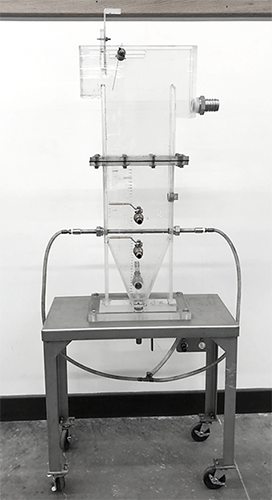 Gravity Separation by Wilfley table, Mozley Laboratory "Super Panner" table, Roche spiral concentrator, and Knelson KC-MD3 concentrator.
Wilfley "Shaker" Table
Mozley Laboratory "Super Panner" table, with flat and V profile trays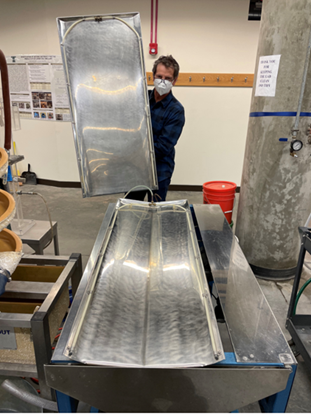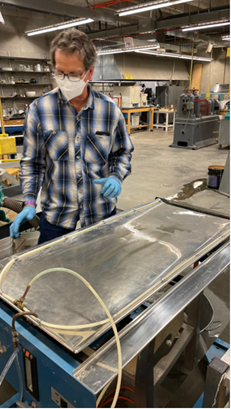 Magnetic Separation by magnetic belt, dry drum, wet drum or wet high intensity magnetic separator (WHIMS).
Electrostatic Separation by surface charge using an electrostatic separator.
Eriez Rare Earth Dry Belt Magnetic Separator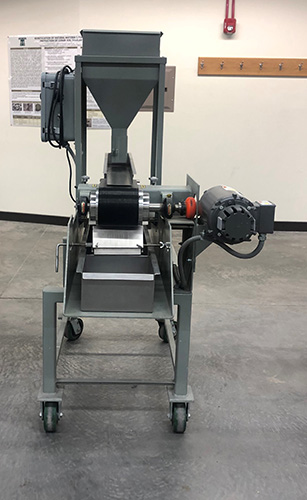 Eriez 24" Permanent Magnet Multi-Element Dry Drum Separator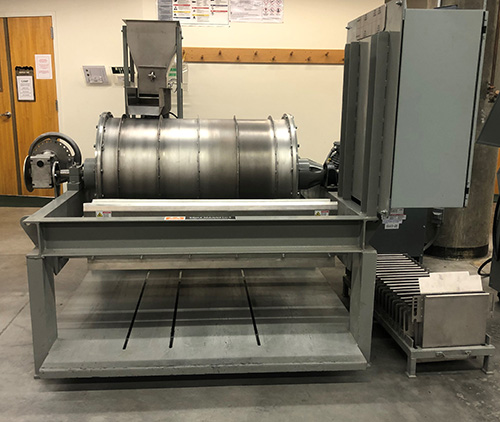 Particle Size Analysis by Sieve, Zetasizer, and scanning electron microscopy (SEM). 
Ro-Tap Motorized Sieve Shaker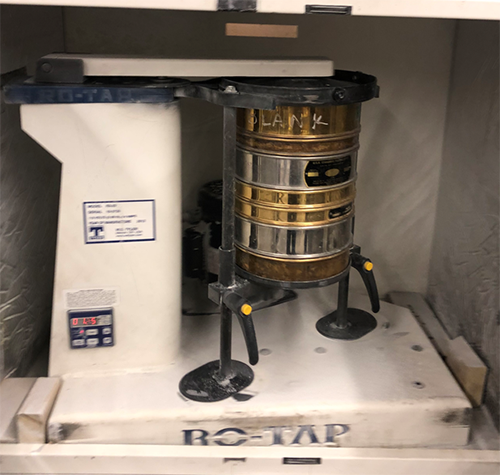 Zetasizer Nano ZS
The Zetasizer Nano ZS measures particle size (in nanometers to micrometers) from 0.3 nm to 5 µm, molecular weight in Daltons from 342 Da to 2 x107 Da, and Zeta potential in millivolts for particles with a diameter from 3.8 nm to 100 µm.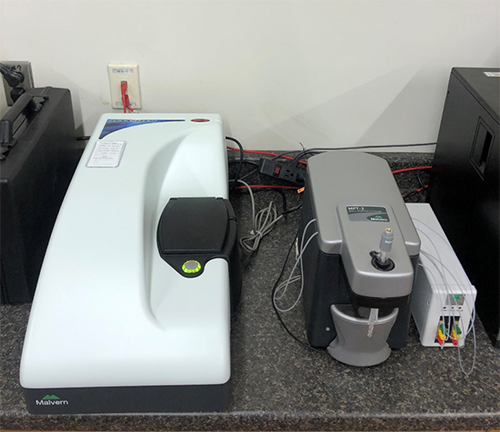 SEM Image showing particle and grain size analysis data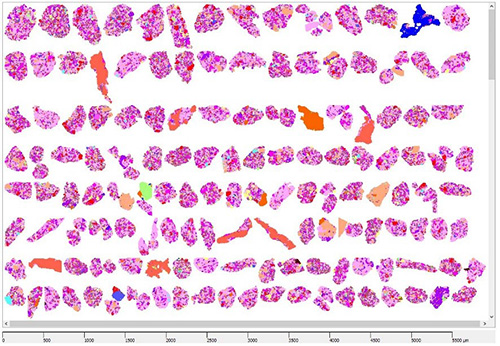 Metallography Lab Equipment
Cutting includes use of an Allied Powercut 10 and Techcut 4. Hot mounting uses the LECO MX400 mounting press. Polishers and grinders include Metlab, Ecomet and Pace Technologies.
LECO MX400 Mounting Press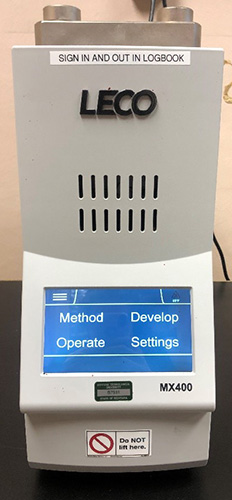 Metlab Metpol-1V and 2V Grinder-Polishers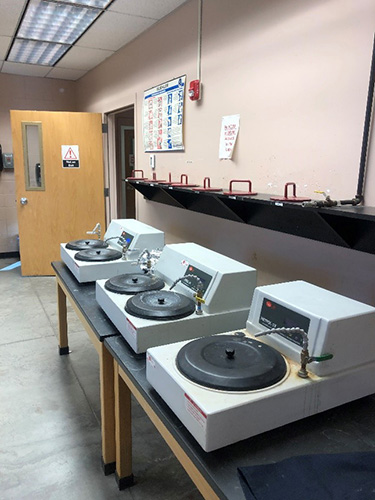 Ecomet 6 Variable Speed Grinder-Polisher with Automet 2 Power Head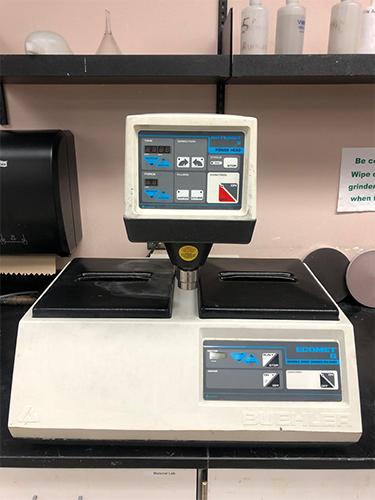 Pace Technologies GIGA-900S Vibratory Polisher
Leica DM IL LED Inverted Reflected Light Microscope, magnification up to 100X.
Leica S8AP0 Stereo Microscope, magnification up to 80X.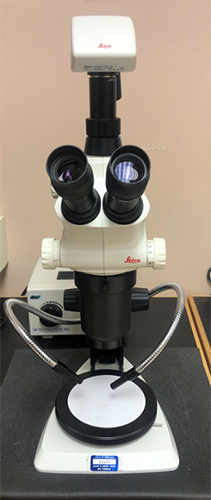 HiRox Digital Imaging Microscope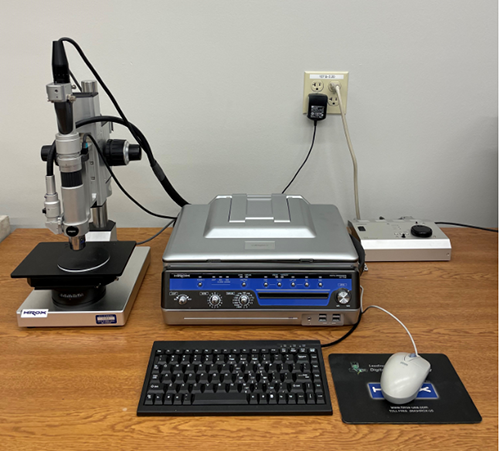 LECO LM300AT Digital Microindentation Tester for Vickers Microhardness Testing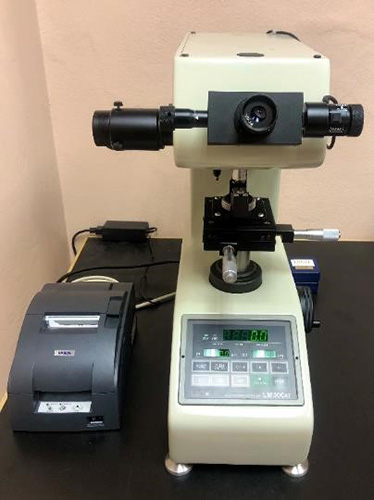 Connect with CAMP.
If you have questions or ideas for collaboration, please reach out.
Dr. Ronald J. White
Director of CAMP
(406) 496-4343
Rwhite@mtech.edu