Doug Abbott
Vice Chancellor for Academic Affairs/Provost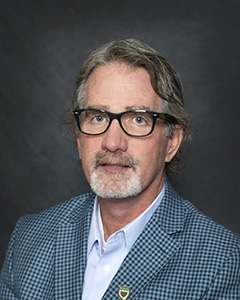 Douglas M. Abbott became the Provost/Vice Chancellor for Academic Affairs of Montana Tech in January of 2007. Abbott received his B.S. in Petroleum Engineering from the Montana College of Mineral Sciences and Technology (1985), MBA from the University of Montana Graduate School of Business (1988) and Ed.D.in Educational Leadership, the University of Montana - Missoula (2004).  His dissertation focused on the utilization of artificial intelligence (namely Artificial Neural Networks) to predict college choice.
Doug was hired as a Business Faculty member in 1988. He was promoted to Associate Professor in 1994, Professor in 2004, and was granted tenure at Montana Tech in 1995. He served as Business Department Head from 1996 – 2004 and Dean of the College of Humanities, Social Sciences and Information Technology from 1997-2007. Abbott also served five years on Bob Green's coaching staff as an Assistant Football Coach from 1988 – 1992.
During his tenure in Butte, Doug has also served as Principal Investigator/Commercialization Specialist for the National Center for Appropriate Technology and as a Mineral Economist for MSE Technology Applications, Inc.
Doug is an active Forensic Economist. He is a member of the Western Economic Association (WEA), National Association of Forensic Economists (NAFE), American Marketing Association, American Board of Disability Analysts and Sigma Beta Delta.
Abbott was born and raised in Helena, Montana. Doug and his wife, Mary (an Associate Professor of Petroleum Engineering at Tech), have two children. Their daughter, Gwenn is a licensed Physical Therapist and is living in Great Falls. Dunk, who graduated from Montana Tech in Petroleum Engineering, works for Marathon Oil in West Texas.
Doug and his family enjoy time at the lake camping and water skiing, snow skiing, golf and other outdoor activities.