Exercise and Health Science, B.S.
Launch a career in Exercise and Health Sciences; gain a fundamental background in health, human performance and disease prevention.
Why Study Exercise and Health Science at Montana Tech?
The EHS degree focuses on the science of human movement, sometimes referred to as kinesiology, and is appropriate for students interested in pursuing careers in exercise physiology, sport science, public health, strength and conditioning, wellness, and sports medicine. The degree is also appropriate as a pre-professional degree for students interested in allied health fields, such as physical therapy, occupational therapy, athletic training, physician's assistant and medical school, requiring master's or doctoral level preparation.
Experiential Learning
The curriculum is science-based, and also requires practical field and laboratory experiences. The EHS Department at Montana Tech provides hands-on experience with a well-equipped human performance laboratory, housed within a modern Health, Physical Education and Recreation (HPER) Complex that allows for experiential learning. The small class sizes allow for one-on-one interactions with faculty that facilitate learning and professional growth.
Student-Centered
Pre-med majors receive personalized attention from world-class Montana Tech faculty in a close-knit and supportive environment. You can work with faculty on special topics or independent study. You'll also have opportunities to work side-by-side with them on groundbreaking research, including disease transmission and environmental health, discovery and characterization of mycobacteriophages (viruses that infect mycobacterial hosts), or biomechanical analysis of physical activity and sports injury. Montana Tech also offers undergraduate research scholarships for students to pursue their own research interests.
Ideal Location
Montana Tech's location in Butte, Montana, not only gives you access to internships and jobs in Butte and nearby cities such as Bozeman and Missoula, but also to outdoor adventures. Enjoy your study breaks skiing, hiking, and fishing in beautiful Montana.

Outdoor Labs in Wilderness

Why Choose Exercise and Health Science?
Nearly all graduates have rewarding careers as health, safety and fitness professionals or in the medical field. The science-based curriculum emphasizes health, wellness, kinesiology, exercise physiology, human movement analysis, and occupational health and safety.
What Kind of Jobs can Exercice and Health Science Majors Get?
Many Exercise and Health Science students go on to graduate school in a variety of fields such as industrial hygiene, exercise physiology; and in medical fields such as physical therapy, occupational therapy, athletic training, physician's assistant, and medical doctor. Capabilities for Exercise and Health Science professionals include developing, implementing, and evaluating health and safety programs; working in health, fitness, performance enhancement and wellness capacities; or attending graduate school.

90%
Acceptance rate into medical, dental, pharmacy, or professional schools.

13%
Growth projected in healthcare occupations 2021 to 2031.

$75,040
Median annual wage for all healthcare occupations, 2021
The overall quality of education at Montana Tech, in my opinion, is hands above that of larger public institutions. The EHS curriculum, along with the elective courses, are thorough and lay what I would consider a firm foundation for further and more focused studies in graduate programs. I loved my time at Tech. It's a passion of mine to study exercise and its effects, and now I focus on exercise for individuals with chronic disability, which is a whole different level of thinking in many ways!

Joe Wegley

Doctor of Physical Therapy

Author of Made to Move
Explore Classes in Exercise and Health Science
Classes emphasize health, wellness, injury prevention and management, movement analysis, exercise physiology, and occupational health and safety. A total of 120 credits is required, and students who may be continuing on to graduate school in a clinical or medical area should consider pre-requisites for graduate/ medical school when choosing elective classes.
Learn More About Exercise and Health Science
CLSPS
Explore other programs in the College of Letters, Sciences, and Professional Studies.
Catalog Details
Get semester-by-semester info about Exercise and Health Science courses.
Related Programs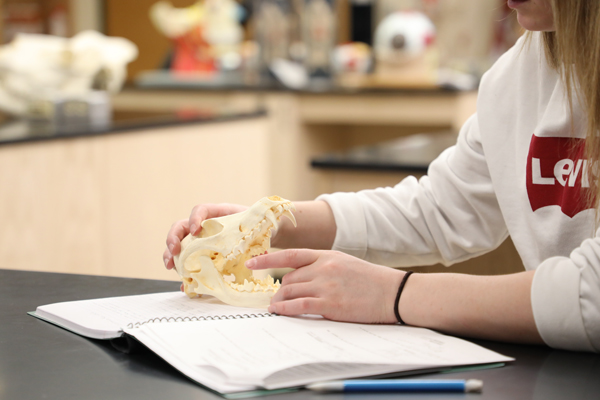 Biology
Gain knowledge in evolution, ecology, genetics, and cellular and molecular biology.
Connect with us.
We can answer your questions and help you get started.
Dr. Amy Kuenzi
Professor and Department Head
akuenzi@mtech.edu
406-496-4793