Occupational Safety and Health, B.S.
Fulfill an ever-increasing demand for occupational safety and industrial hygiene specialists within industries ranging from alternative energy to insurance.
Why Study Occupational Safety and Health at Montana Tech?
Occupational Safety and Health (OSH) graduates apply science, engineering, and technology to anticipate, recognize, evaluate, and control safety and health hazards in the workplace. From protecting people from acute injury or death due to traumatic accidents, to preventing illness and chronic disease due to biological, chemical, and physical agents, OSH graduates are the experts in ensuring that everyone has access to a safe and healthy work environment. Employed as Environmental Health and Safety Specialists, Safety Engineers, and Safety Managers, OSH graduates join a rapidly growing and in-demand group of dedicated professionals protecting our workers and their families. Students who enjoy the sciences, conducting field work in interesting environments, and frequent interactions with a diverse group of people should consider the rewarding field of occupational safety and health.
Accredited Program, State-of-the-Art Facilities
Montana Tech recently constructed a state-of-the art Safety Lab which allows for an abundance of experiential learning exercises within the curriculums. The quality of our programs is recognized by the Board of Certified Safety Professionals as Qualified Academic Programs. Additionally, the program is accredited by the Applied and Natural Science Accreditation Commission of ABET (ANSAC/ABET, http://www.abet.org), and is supported by a National Institute for Occupational Safety and Health Training Project Grant.
Degree Recognition
The National Institute for Occupational Safety and Health recognizes the quality of Montana Tech's ANSAC/ABET-accredited programs by providing funds for scholarships, travel, and faculty development through a Training Project Grant. Students pursing a Bachelor of Science (B.S.) in Occupational Safety and Health (OSH), a Master of Science in Industrial Hygiene, or a Master of Science in Industrial Hygiene Distance Learning/Professional Track are eligible for the funds.
ANSAC/ABET accreditation sets the global standard for programs in applied science, computing, engineering, and engineering technology. With ANSAC/ABET accreditation, students, employers, and the society can be confident that a program meets the quality standards that produce graduates prepared to enter a global workforce.
Sought worldwide, ANSAC/ABET's voluntary peer-review process is highly respected because it adds critical value to academic programs in the technical disciplines, where quality, precision, and safety are of the utmost importance. ANSAC/ABET is a nonprofit, non-governmental organization recognized by the Council for Higher Education Accreditation (CHEA).
The Board of Certified Safety Professionals designated the B.S. degree in OSH as a Qualified Academic Program. Graduates of the B.S. in OSH are eligible for the Graduate Safety Practitioner professional credential.
Campus Activities and Student Clubs
Students in the Safety, Health and Industrial Hygiene Department and students in various engineering degrees receiving an OSH minor participate in campus activities, both informally and through a club. The club is a "student section" of the American Society of Safety Professionals (ASSP). The main purposes of the club are to provide students with opportunities to explore the field of OSH/IH, learn about professional societies, and socialize. Another benefit for student members is eligibility for scholarships from the ASSP Foundation.

Applied and Natural Science Commission Accreditation

Engaged Faculty with Experience & Expertise

Hands-On Learning Environment
What is Occupational Safety and Health?
Businesses employ specialists in occupational safety and health (OSH) to oversee the employer's program for protecting employees. Common work involves training employees on safe practices, conducting audits of worksites, assessing exposures to hazards, keeping records, and coordinating worker's compensation for injured or ill employees. The OSH degree curriculum is structured to prepare graduates for these careers by combining courses spanning the range of needed topics plus laboratory courses with a hands-on experience using applicable technology.
What Kinds of Jobs Do Occupational Safety and Health Graduates Get?
Diverse employers visit the campus to recruit students for internships and career positions. More than half of the graduates start their career in industrial sectors such as construction, mining, or energy; many others start with federal, state, other governmental agencies. Nearly all large industrial companies and governmental agencies have OSH programs with career ladders providing opportunities for promotions and increased salary.

#1 Best Value College in America

$64K Average Starting Salary
Explore Classes in Occupational Safety and Health
Montana Tech's program in Occupational Safety and Health (OSH) leads to a Bachelor of Science (B.S.) degree. Nearly all graduates have rewarding careers as OSH professionals working in positions aimed at helping employees perform their work safely in a workplace free from recognized hazards. Core functions for OSH professionals include developing, implementing, and evaluating health and safety programs.
The curriculum provides students a sound technical foundation with courses in mathematics, biology, chemistry, and physics. Communication skills are strengthened through courses in writing and oral presentation. Of the 122 total required credit hours, 45 are in OSH. Most of these include experiences working in small groups, writing assignments, presentations, and problem solving. Laboratory courses conducted by OSH faculty use three laboratories, one is unique and dedicated to safety and ergonomics.
Learn More About Occupational Safety and Health at Montana Tech
Accreditation
Explore other programs in engineering and related fields.
Catalog Details
Get semester-by-semester info about Occupational Safety and Health courses.
Related Programs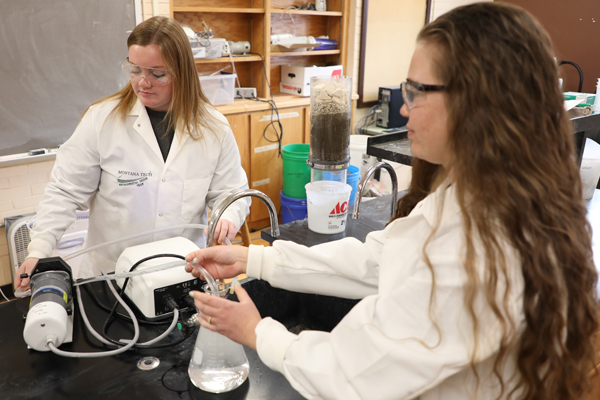 Environmental Engineering, B.S.
Address complex environmental issues such as climate change and pollution.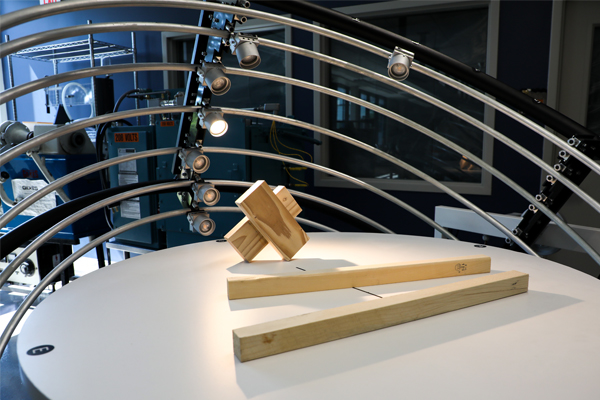 Civil Engineering, B.S.
Civil engineering involves the design, construction, and maintenance of the physical and naturally built environment.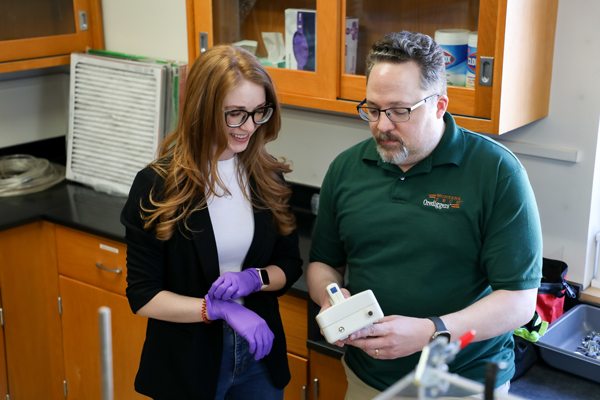 Industrial Hygiene, M.S. (On Campus)
The on-campus M.S. degree is structured to encourage participative, collaborative, and applied problem-solving strategies to address modern day occupational health issues.
Connect with us.
We can answer your questions and help you get started.
Lorri Birkenbuel
Associate Professor
lbirkenbuel@mtech.edu
406-496-4290