TRIO helps first-generation students reach for their goals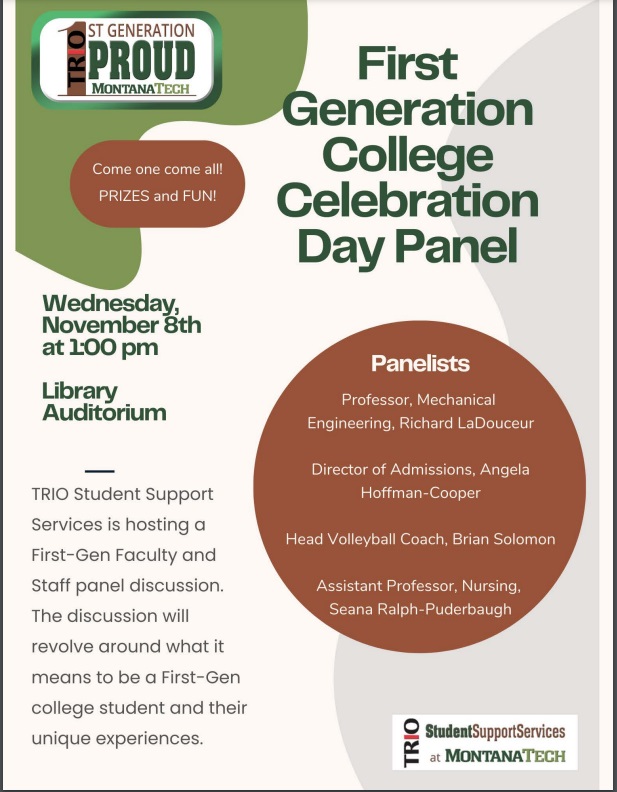 FAFSA. FSA. FSEOG. FWS. EFC. COA. FERPA. GPA. TA. SAP. RA. WUE.
Starting college can sometimes feel like diving into a bowl of alphabet soup. Everything has an acronym, and for those unfamiliar with the lingo, the process of getting everything filled out to attend can be intimidating.
"The first-generation students are usually the last to finalize their financial aid," said Director of TRIO Support Services Theresa Rader. "It's been my experience that these students don't have that person at home who can help them with things like the FAFSA. They might not know the difference between a loan or a grant, or that one has to be paid back and the other does not."
The TRIO office at Montana Tech is here to help. TRIO is home to student support services for first-generation, low-income students, as well as students with disabilities.
"There are a lot of resources in this office," Rader said.
In addition to working closely with Financial Aid to help incoming students fill out their FAFSA and required documents to get funding for college, the office is also home to peer support mentors that help students overcome other barriers to successfully completing a bachelor's degree.
"It's not that students don't understand the context of the material," Rader said. "A lot of students don't understand how to be a student. Do you know how to take notes? How to read a textbook?"
Recently, a peer mentor started working with a group of nursing students needing help. Their scores on their next exam increased substantially.
"We can see in real-time how these services are helpful for students," Rader said.
The office is funded to serve 120 students on campus, but Rader stresses that anyone struggling to adjust should stop by, even if it is just to connect with other resources. Most of the TRIO staff are alumni of the federal program, or were first-generation students themselves.
"We want folks working here who are empathetic with the students," Rader said.
The services offered for current Orediggers are just one part of what the TRIO office does. It's also home to four pre-college programs that serve sixth through twelfth graders in Butte, Anaconda, Helena, and East Helena.
"In sixth grade, we want to get them excited about higher education," Rader says. "Whether they have dreams of going to Montana Tech, or if they have dreams of going to beauty school, we want to encourage them to pursue those goals."
The Upward Bound portion of the outreach program includes paid summer research experiences for students over the summer, as well as regular advising from staff, and monthly weekend learning experiences.
To learn more about the ways TRIO Support Services serves Montana Tech and southwestern Montana, click here.