Montana Tech celebrates outstanding Orediggers during National Transfer Student Week
The university experience is not one size fits all. Most students will finish classes at the same 4-year university where they started, but the many possible pathways to a degree are varied and as distinct as the students who take them. This week Montana Tech celebrates National Transfer Student Week and would like to highlight a few high-achieving transfer students.
Koby Martin is a senior in Civil Engineering focused on developing sustainable building materials, particularly concrete, using widely available biomaterials.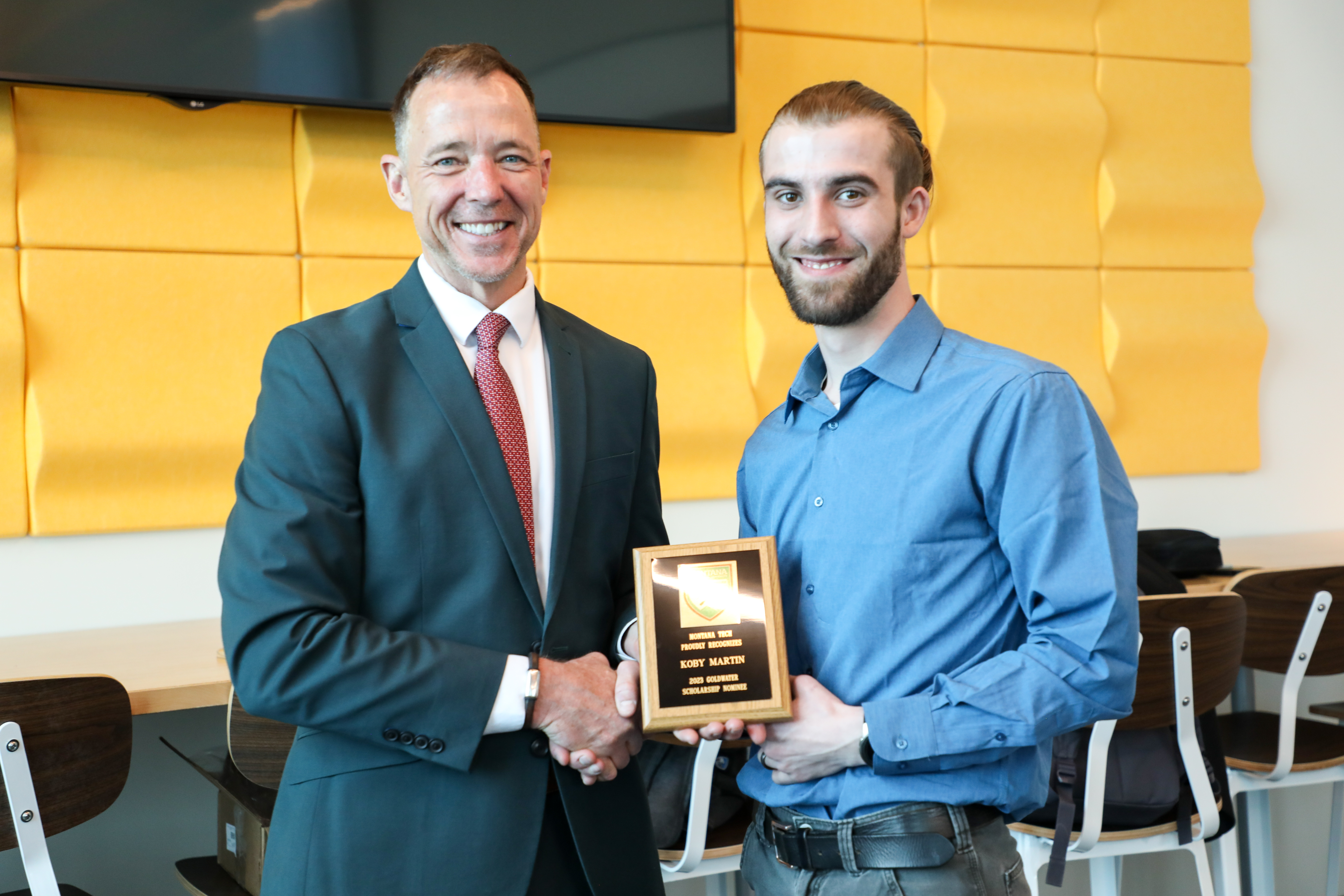 Martin was born and raised in Helena, Montana, before moving to Butte with his wife. He enrolled at Montana Tech as a transfer student and hopes his story illustrates that non-traditional students from disadvantaged backgrounds can excel in academia.
Last year Martin received the 2023 Barry M. Goldwater Scholarship.  The award is the most prestigious undergraduate scholarship awarded in America's natural sciences, mathematics, and engineering.
"Montana Tech has become a family to me; without the support of my wife, the guidance of my mentors, and the help of my peers, I would not be where I am today," Martin said. "I plan to take what I have learned from this family and make a lasting impact on the world through my work in sustainability and infrastructure.
Koby plans to expand his research to investigate sustainable practices within civil engineering further. Topics on sustainability in engineering will form the foundation of a future M.S. and Ph.D. degrees in civil engineering while contributing towards his goals of becoming a leading researcher and professor in Civil Engineering investigating sustainability and resiliency.
Riley Hellinger (Biological Sciences–Cellular/Molecular Track, '19) is currently working through a prestigious dual M.D.-Ph.D. program at the University of Arizona College of Medicine–Tucson (UACOM-T), which is funded by the National Institute of Health as a distinguished Medical Scientist Training Program. Hellinger's journey started in Shelby, Montana, a tiny town on the Montana Hi-Line.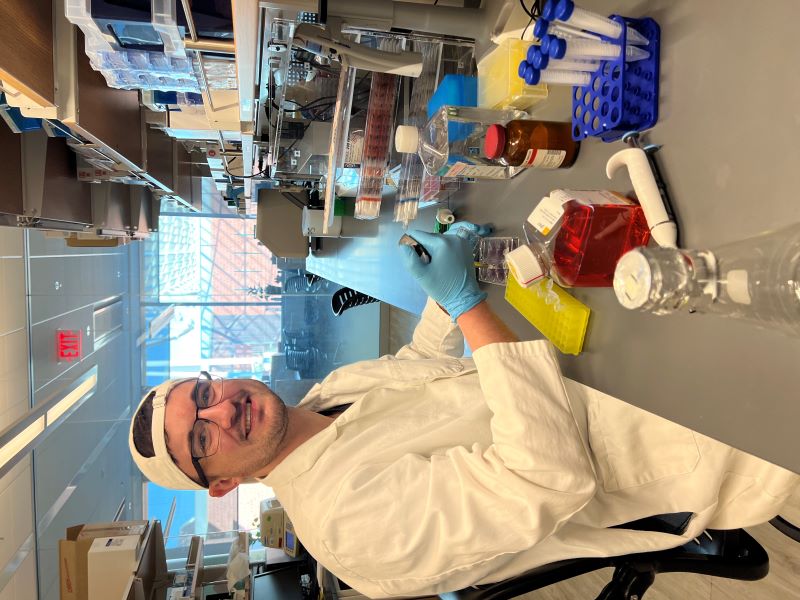 Hellinger set off for Colorado State University in Fort Collins after he graduated high school. After one semester, felt himself pulled to Montana Tech.
"It's really expensive to go to school out of state," Hellinger said. "I wanted to be closer to friends and family, and going to Montana Tech allowed me to save money before med school."
While at Montana Tech, Hellinger built an impressive resume. His first experience with research was with Dr. Amy Kuenzi studying Hantavirus, which he did for three years. He also worked at the lab bench with Dr. Kuenzi and Dr. Joel Graff, working on a Colorado Tick Fever Virus research study. Hellinger said the highlight of his research experience at Montana Tech, and ultimate driving force for his current educational path, was studying bacteriophages with Dr. Graff and Dr. Marisa Pedulla.
"That's where I really discovered my passion for research. I discovered two different bacteriophages and was able to characterize them with my classmate Hannah Sparks," Hellinger said.
He and Sparks worked through and sequenced the genomes of one of the bacteriophages. Their work won best poster in Biological Sciences at Techxpo in 2018. They also gave an oral presentation of that research at the 10th Annual HHMI SEA Symposium in Washington, D.C. During that busy spring semester, Hellinger was encouraged by faculty to apply for the highly competitive Amgen Scholars Program, which is open to top students from around the globe. Hellinger was accepted to the program through the Massachusetts Institute of Technology (MIT) and spent eight weeks working in Dr. Michael Hemann's lab in the Koch Institute for Integrative Cancer Research. 
"We had the 1-on-1 mentorship from faculty, which made my research experience really unique compared to anyone else I met along the way," Hellinger said. "I learned to be a very independent undergraduate researcher. At larger institutions labs tend to be driven by the work of graduate students and post docs, but at Tech it was just us undergrads. It has been really easy to pick things up because of this."
Following graduation, Hellinger returned to MIT to work as Dr. Hemann's laboratory manager and technician for two years. Now, Hellinger has been at UACOM-T working through his MD/PhD program in Tucson since 2021. He took his first United States Medical Licensing Examination, the USMLE Step 1, in February 2023, after finishing the 18-month preclinical curriculum. In March 2023, he began the PhD portion of his program, which will be in Cellular and Molecular Medicine. Here, mentored by Dr. Julie Ledford, his research is focused towards understanding asthma, COPD, and how cigarette and wood smoke affect the airways and lungs, specifically regarding susceptibility to infections. He will complete this over the next few years, before finishing out with the final two years of medical school clinical rotations. That will be followed by residency and fellowships in a medical specialty that Hellinger decides to focus on.
Keith Moore, a Biological Sciences senior, says he has greatly enjoyed the research experience at Montana Tech. He earned his associate's degree from Flathead Valley Community College and transferred to one of the state's flagship universities prior to his time at Montana Tech. He discovered he had more opportunities to get in the lab at Tech.
Over the summer, Moore studied DNA sequences of the rhizosphere in the Clark Fork drainage. The rhizosphere is the area where microbes are found surrounding plant roots. Moore had a tricky bit of sequencing that kept repeating itself. He figured out how to remove the repetition so those who continue research in this area can get better results more quickly. 
"Research here is way more cooperation than competition," Moore said.