Find your passion, find your purpose, find your roommate at Fall Tech Day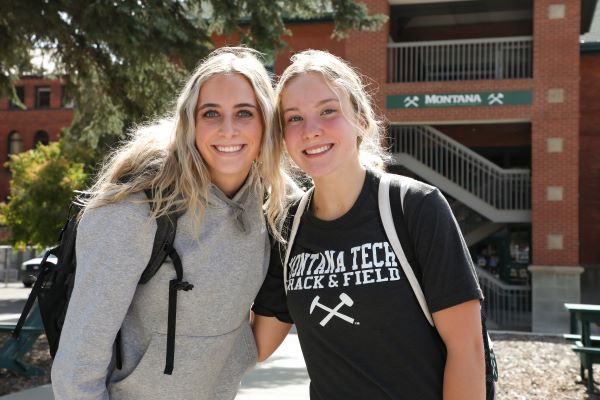 Montana Technological University will host an upcoming STEM-focused open house event known as Tech Day on Friday, November 17, from 9 a.m. to 3 p.m. Tech Day is a one-of-a-kind, hands-on college visit experience for prospective students. Students are invited to the main university campus in historic Uptown Butte, Montana, to experience a day of interactive laboratory breakout sessions, campus tours, and a chance to explore academic areas of interest.
For pre-nursing freshmen, Emma McCauley and Zoey Morast, the experience played a pivotal role in solidifying their plans for college. McCauley traveled from Boulder, and Morast from Dillon in 2022 to explore campus on Tech Day.
"We both had intentions to come to Tech, but we weren't sure yet," Morast remembers.
The pair knew of each other from track meets across southwestern Montana, and they reconnected at nursing sessions held on Tech Day. They found out they were being recruited by the Montana track team, wanted to follow in their grandparents' footsteps to be nurses, and had similar interests.
"We were getting recruited for other schools as well, but Tech felt more like a home," Morast said.
The pair attended the cadaver dissection lab during Tech Day and found it provided worthwhile insight into whether they might succeed as nurses or run at the first sign of bodily fluids.
"It was pretty necessary to know what to expect in nursing school," McCauley said.  "If you didn't know you could or couldn't handle something like that before you took anatomy class, you would have wasted your time."
McCauley and Morast kept in contact after Tech Day. They decided to be roommates and moved into the residence halls together this fall. They are together almost always, with nursing classes and track practice. They now take classes in the same laboratory where they participated in the cadaver lab exercise at Tech Day.
"It was nice to know each other too because it was easy to plan stuff before we moved in," Morast said. "It also comes in handy for classes, when you have questions about homework."
The pair have advice for high schoolers considering Tech Day.
"Talk with other students," Morast said. "Find out who is coming to Tech, and what they might be involved in."
"You will find something you like, even if you don't know what you want to do yet," McCauley said.
Students who attend Tech Day can choose to attend a variety of breakout sessions to get a full day of hands-on activities. Sessions include:
Business & Information Technology (BIT):Learn how to use Microsoft Power BI, one of the world's leading business intelligence apps, and win prizes playing BIT-themed Jeopardy. 
Cadaver Dissection Lab: Witness and interact with human cadavers and participate in a hands-on dissection of various animal organs in our Cadaver Lab session. Students will have the opportunity to learn more about our Biological Sciences, Chemistry, and Exercise & Health Science programs. Limited to 20 students. 
Chemistry: Join faculty as they run a chemistry of coloring metals, fluid art, and acidic patterns. Limited to 20 students. 
Computer Science/Software Engineering: Students will see how a classic game leads to discussion for more advanced games, machine learning, artificial intelligence, and the ethical and moral dilemmas that can come from AI applications. 
Electrical Engineering: Put your skills to the test as you learn binary code and program a robot to follow a line on the floor. Students interested in electrical engineering, robotics, and computer science are encouraged to join!
Environmental Engineering: Explore drone-based remote sensing data collection in water resources, engineering, and mine waste remediation projects. 
General Engineering: Watch a hands-on presentation that demonstrates the remote sensing and aero-geophysical capabilities of drones and sensors. See first-hand how these hi-tech aircrafts perform data collection, and apply remote sensing in hydrology, climate changes, and cryosphere science, mineral exploration and more!
Mathematical Sciences: Discover how building tensegrity models can be fun and learn how they can occur in nature alongside our Mathematical Sciences department. 
Metallurgical & Materials Engineering: Learn how materials can be manipulated with casting and thermite welding demos, and a steel forging competition.
Mining Engineering: Get to see what happens when chemical energy is released, and learn about the importance of safety in mining through a virtual reality (VR) experience. 
Nursing Simulation: The nursing department will demonstrate use of computerized mannequins that perform human functions to create a realistic clinical environment and give students an opportunity to explore a variety of healthcare scenarios.  
Occupational Safety and Health: Harness-up and learn how to work from extreme heights to keep a job site safe. OSH is a highly employable health science field with jobs available in numerous industries worldwide. Limited to 20 students. 
Petroleum Engineering: Join the Petroleum department as they take a spin through our state-of-the-art laboratories with demonstrations. 
Surviving College - Student Panel: Learn the ins and outs of being a successful Montana Tech Oredigger from a panel of current students. Bring your questions!
Highlands College Campus Tour: Interested in one of our associates or certificate programs? This tour will give you a peek into the incredible hands-on lab spaces at Highlands College. Attendees must have their own transportation to 25 Basin Creek Rd. 
Prospective students can sign up at
https://iam.mtech.edu/techdaydigital/inquiryform
. If you have questions, please reach out to the Admissions Office at Montana Tech at admissions@mtech.edu or (406) 496-4754.