Deer Lodge resident says Nursing Scholars Edge Program gave her advantage at Montana Tech; applications open now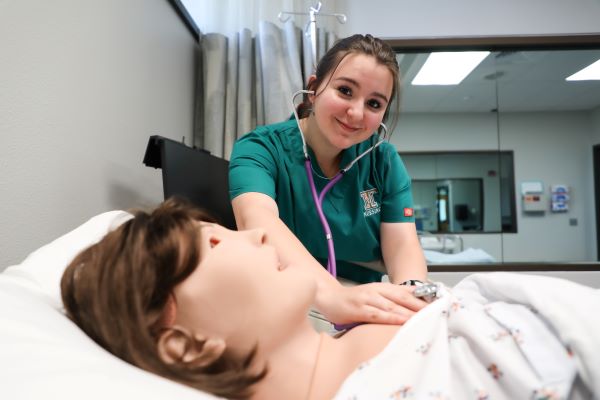 Emaleigh Packer of Deer Lodge says the Sherry Lesar School of Nursing was her top choice when applying to colleges senior year.
"I learned about Montana Tech from my mother, who graduated from Tech with her LPN in the early 2000s," Packer said. "I always saw articles expressing the quality of Tech's nursing program and how they earned the spot as #1 in the state. I knew I wanted nothing but the best for my future and was excited to challenge myself. In my senior year of high school, I received a letter from Tech detailing the Nursing Scholars Edge Program and decided to apply."
The Nursing Scholars Edge Program is a direct entry program that selects 10 top Montana high school seniors every year from a pool of qualified applicants. These incoming freshmen secure clinical spots in the Sherry Lesar School of Nursing. Earning a seat in the clinical program is a highly competitive process for students who don't have the Nursing Scholars Edge Program advantage. The Sherry Lesar School of Nursing has been named the #1 nursing program in the state in numerous publications over the past several years, and was named a Top 20 BSN Program in the U.S. by EDsmart in 2022. The school's excellent reputation helps draw applicants from across the United States.
By earning one of the 10 Nursing Scholars Edge Program spots, the student needs to maintain a 3.75 grade point average in pre-nursing coursework in order to enroll in the clinical portion of the nursing program, after taking prerequisites. Program participants get to bypass one of the major hurdles to clinical selection: the Test of Essential Academic Skills (TEAS) exam.
The TEAS exam is a test administered to gain admission into the clinical portion of nursing schools. At Montana Tech, your exam score is factored into your application, along with your overall GPA and your grades in certain prerequisites. The TEAS exam is known for being a difficult test, and poor scores can often be a roadblock to clinical placement.
Packer was selected to participate, and says it took a huge burden off her plate as she tackled her prerequisites.
"I would highly recommend the Nursing Scholars Edge Program to incoming students," Packer said. "Being selected for this program is a huge honor and utilizes your high school achievements to further your future career. You have worked hard academically and deserve credit for that work. A lot of stress is taken off your plate by not having to take the TEAS, allowing you to focus on your academics."
Packer says she plans on working as a civilian for the military and Department of Veterans Affairs in the future. 
"I grew up with many veterans in my family and want to help care for those who took care of us," Packer said. "I am also interested in travel nursing to have a widespread impact on others. Ultimately, I aspire to leave the people and places around me in a better state than which I found them."
As for others planning to apply to the Nursing Scholars Edge Program, Packer has some advice.
"My resume consisted of my volunteer work, extracurricular activities, and academic achievements," Packer said. "I also discussed who I am as an individual and the future goals I am working towards. All these items helped me earn a spot in this program. I advise all future applicants to be confident in their achievements. Ensure that your resume properly represents all your qualifications and who you are as an individual. You are deserving of great things, and with proper preparation, you can receive them."
Director of Nursing Janet Coe, MSN,RN,CHSE encourages all high-achieving students in Montana to apply.
"While we recognize that our graduates can obtain work anywhere, we know that many choose to stay in Montana," Coe said. "Just like Emaleigh, many of our students are passionate about the communities where they grew up and desire to return and continue to serve their community. Montana Tech's Sherry Lesar School of Nursing is proud to support rural healthcare by providing opportunities to honor and recognize Montana students who demonstrate high academic success along with the leadership to continue to advance healthcare. We encourage students from all Montana communities to apply for this prestigious award. "
Montana high school seniors need a 3.5 grade point average and an ACT composite score of 23 or SAT score of 1200 to be eligible for the program. Test scores are preferred but not required. Students are asked to submit an application, high school transcript, resume, ACT or SAT test scores, and written responses to essay questions to the nursing department at nursing@mtech.edu.
This year's essay questions include:
What is you understanding of the role of the professional nurse and why have you chosen to pursue nursing as a career at Montana Technological University?
What are your views on rural health? Would you ever consider working in a rural area?
Tell us about a personal quality, talent, accomplishment, contribution or experience that is important to you. What about this quality or accomplishment makes you proud, and how does it relate to the person you are?
Do you have any experience in health care or with patient care (such as volunteer opportunities, job shadowing, employment etc. Please describe.
Beyond what has already been shared in your application, what do you believe makes you stand out as a strong candidate for the Nursing Scholar's Edge Program?
Applications open September 6. The deadline to submit is 4 p.m. on January 19, 2024. Questions? Email nursing@mtech.edu.
Montana Tech's general application to be accepted as a student to the university can be found here. Students must be admitted in the university in order to also be admitted into the Nursing Scholars Edge Program.