Benson leads Kootenai National Forest, says almost all fields of study apply to agency's work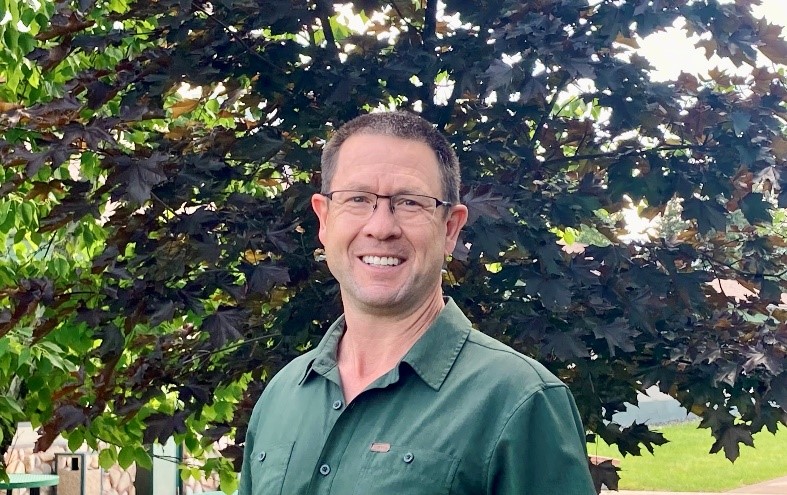 There are 2.2 million acres in the Kootenai National Forest, and Chad Benson (1998, B.S.  Engineering Science) is the Forest Supervisor in charge of ensuring all 400 employees keep those public lands protected, pristine, and ready for the enjoyment of the people.
Benson is a native of Plains, and working with the Forest Service runs in the family. His grandfather served as an equipment operator, and his father was an assistant fire management officer on the Lolo National Forest. His mother was a forestry tech and served in the business and finance office on a Type 1 Interagency Incident Management Team.
Benson also lived at the Forest Service compound on the Lolo's Plains/Thompson Falls Ranger District until age 12, meaning he was immersed in the agency's mission from an early age.
When he decided to attend Montana Tech, Benson chose engineering as his major, and continued to work summers with the Forest Service in various positions, including silviculture crew, trail building, thinning crews and wildland firefighting. His time at Montana Tech taught him to be a critical thinker.
"I value that deep level of critical thinking we received and the wide diversity of classes taught," Benson said. "Being part of something with a smaller atmosphere, where you were more immersed with professors in small working groups, was nice."
He concentrated his coursework in civil and mechanical engineering, and took a job with a large construction company building infrastructure for the 2002 Winter Olympics in Salt Lake City. After about 3.5 years, Benson was ready to head back to the U.S. Forest Service for good.
He took a job in 2001 as a civil engineer in the Kootenai National Forest, but his stint there was short-lived. He moved to Missoula and worked for the engineering department for the Lolo National Forest Supervisor's Office, where he worked for several years. Eventually, he found that people were his passion, but was thankful for the variety of experiences working in engineering afforded him.
In June 2006, he took a position as a District Ranger on the Clearwater National Forest in Idaho. In November 2009, he was appointed to a District Ranger position in the Ninemile District of the Lolo National Forest. In the Spring of 2015, Benson accepted a Deputy Forest Supervisor position in the Custer Gallatin National Forest. He moved into the supervisor position in the Kootenai National Forest in spring 2019.
In his position, he works to balance the interests of the general community, including recreation, timber management, and mining interests, with those of the natural ecosystem.
Benson's wife Aubree is a fisheries biologist working for Region One. They have two sons, and the family enjoys spending time together outdoors.
"As a Forest Service employee, there are so many aspects of the job that make me feel fortunate to be a part of the conservation stewardship mission," Benson said in an interview for the U.S. Forest Service's blog. "There's never been a night that I haven't been able to see the stars. We've always had good water to drink. We've always had a backyard within half an hour of unlimited amounts of peaceful recreation, something my family cherishes. The vast, open space contributes to a healthy lifestyle."
Many people think they have to get a Forestry degree to get into working for the agency, but Benson says that isn't the case.
"The Forest Service has a wide variety of professional positions working for the organization: realty specialists, surveyors, business administration, every field of biology, hydrologists, engineer, silviculturist, foresters, recreation specialist, geologists, archeologists and of course fire fighters" Benson said. "I am an extrovert with an engineering background, but would call myself a generalist these days."
The Forest Service doesn't typically employ healthcare workers, but they sometimes are hired by the Job Corps, which is run under the Forest Service as a youth trades program.
"You can probably take any job you could think of and apply it to working in the U.S. Forest Service," Benson said.
The Kootenai National Forest is located in the far northwestern corner of Montana, and runs from the Idaho state line, north to the Canadian border, south to Trout Creek, and east to Fortine. Benson said the agency often hires for engineering and other positions that would be a good fit for the majors Montana Tech offers.
To inquire about open positions, please visit:
External Customers:  Book time to visit with Amber, CLICK HERE! 
External Info Site:  http://www.fs.usda.gov/detail/r1/jobs