Geological Engineering, B.S.
Why Study Geological Engineering at Montana Tech? 
The geological engineering degree features a curriculum in which geology and engineering are thoroughly integrated. Key coursework includes basic geoscience courses, engineering mechanics courses, and upper division courses in geological engineering, applied geophysics, hydrogeology, and mining geology. You'll learn from industry-experienced — and connected — Montana Tech faculty who are passionate about helping you succeed in geological engineering. You'll be prepared for geological engineering careers or to pursue a graduate degree at Montana Tech or elsewhere.
Montana Tech boasts a 83.33% career outcome rate. Our Geological Engineering department at Montana Tech offers five academic tracks: geotechnical, geophysics, hydrogeology, mining, and petroleum. All options include a sophomore field course plus four credits of Summer field camp modules. There is no better location than Montana Tech to earn your geological engineering bachelor's degree because of our field and lab-oriented coursework that gives you hands-on experience perfect for a career in geological engineering. Our geological engineering students also have the opportunity to learn in the only on-campus underground mine in the country.
Outstanding Faculty
The Geological Engineering Department at Montana Tech has distinguished faculty members who all hold Ph.D. degrees in subdisciplines including civil engineering with geotechnical emphasis, geochemistry, geophysics, and hydrogeology. Each faculty member has significant industrial experience they bring to the classroom, laboratory, and field sites.
World-Class Geological Engineering Labs and Modeling Software
You have plenty of hands-on learning opportunities at Montana Tech. With access to state-of-the-art and fully equipped laboratories, our geological engineering degree students will graduate learning how to operate sophisticated laboratory and field equipment, and interpret the data they collect. Our geological engineering department is home to state-of-the-art facilities including a triaxial testing lab, an underground mine facility, and geotechnical and groundwater modeling software.
Geological Engineering Internships 
Obtain even more hands-on experience through internships to supplement your bachelor's degree from Montana Tech. Through our annual Career Services events, you'll have access to more than 100 companies that come to campus to recruit Montana Tech students for geological engineering summer internships for continuing students and full time employment for our geological engineering graduates.
Exceptional Location
By choosing Montana Tech for your geological engineering degree, you'll benefit from our location in Butte, Montana. You can tour local engineering operations and pursue geological engineering internships in Butte as well as in nearby cities such as Bozeman, Helena, and Missoula. Plus, you'll also have innumerable opportunities to enjoy Montana's great outdoors in your free time.
Study Geological Engineering and Have Fun Too
Get involved in various clubs and organizations on campus. Or enjoy the expansive nature Butte, Montana offers for year-round activities. Ski at nearby resorts or in the backcountry, enjoy local hot springs, hike the Great Divide, or fish in pristine mountain streams.
Be Ready for a Career in Geological Engineering
Through this rigorous Geological Engineering degree you'll not only gain the knowledge and skills you need to succeed. Along with the credentials required to become a registered professional engineer and/or geologist, you'll also develop communication, interpersonal, and project management skills. From Montana Tech's engaged geological engineering faculty to Career Services, you'll have the resources, support, and connections you need to land coveted internships and jobs with correspondingly high salary offers.

Only On-Campus Underground Mine in USA

Unparalleled Location for Field Work
What is Geological Engineering? 
Geological engineers focus on designing solutions to problems related to the materials of the Earth's crust, including minerals, sediments, rocks, water, and solid and fluid hydrocarbons (coal, oil, and natural gas). Their specialized engineering knowledge is required in the design and construction of civil works such as roads, dams, and foundations for buildings and bridges; the evaluation and utilization of groundwater resources and their interaction with surface waters; the search for, development, and extraction of rock, mineral and energy resources; and the protection and remediation of the environment. Geological Engineers are also routinely involved in the characterization and mitigation of geologic hazards, such as earthquakes, landslides, ground subsidence, and volcanic activity.
What Types of Jobs Do Geological Engineering Graduates Get?
A degree in geological engineering allows students broad engineering skills in a wide array of fields. Our geological engineering graduates do field and laboratory work, analysis, and design with rocks, soils, groundwater, and mineral resources all over the world. Graduates pursue careers in engineering, consulting, mining, and slope stability. Many of our students will go on to pursue graduate degrees at Montana Tech or other prestigious universities. 

3% Projected Job Growth by 2028

$91K Average Starting Salary
The Geological Engineering Department at Montana Tech has set me on a path for some truly wonderful opportunities. From research with drones and photogrammetry to elaborate course work, Montana Tech has provided me with the tools I need to be the best candidate for my future endeavors. By instilling positive ethics in students, Montana Tech has proven to be a rewarding experience in every way.

Sean Harris

Sean Harris, BS in Geological Engineering, 2021
Montana Tech is providing me with a degree which I am confident will lead to successful employment. The Geological Engineering program options which include geotechnical, hydrogeology, mining and petroleum demonstrate the broad scope of career options within my degree. The professors and staff encourage students to pursue research and internship opportunities which provide students with relevant field experience that is instrumental in their success.

Richelle Carney

BS in Geological Engineering, 2020
Explore Classes for the Geological Engineering Degree
Your courses at Montana Tech for geological engineering will give you a solid foundation in mathematics, physics, chemistry, geology, and engineering fundamentals. Along with the advanced coursework in geological engineering, applied geophysics, hydrogeology, and mining geology.
Learn more about Geological Engineering, B.S. at Montana Tech
Geological Department
Meet faculty, explore our research expertise, and more.
Catalog Details
Get semester-by-semester info about geological engineering courses.
Research Office
Many geological engineering students choose to pursue research along with their degree supported by agencies such as the NSF, Army Research Lab, and NASA.
Related Programs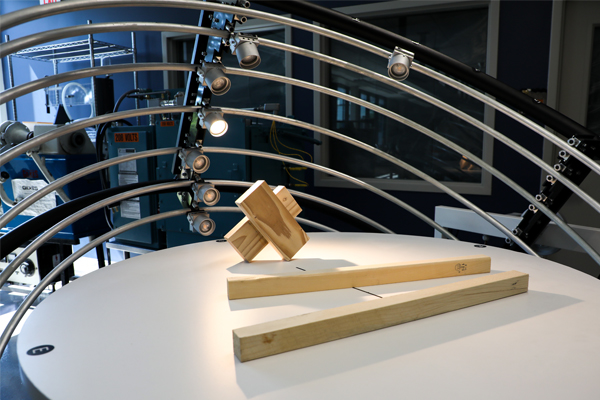 Civil Engineering
Civil engineering involves the design, construction, and maintenance of the physical and naturally built environment.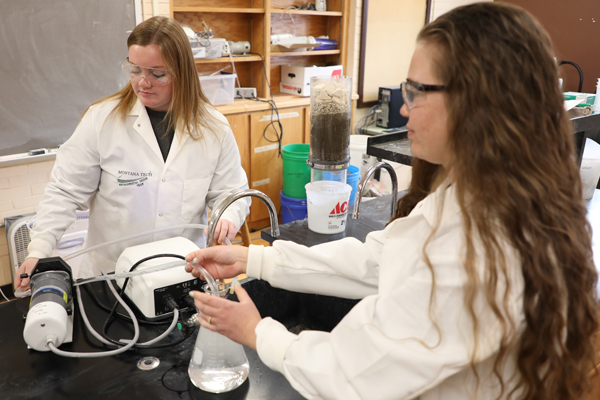 Environmental Engineering
Study air and water pollution control, hazardous wastes, soils remediation and more.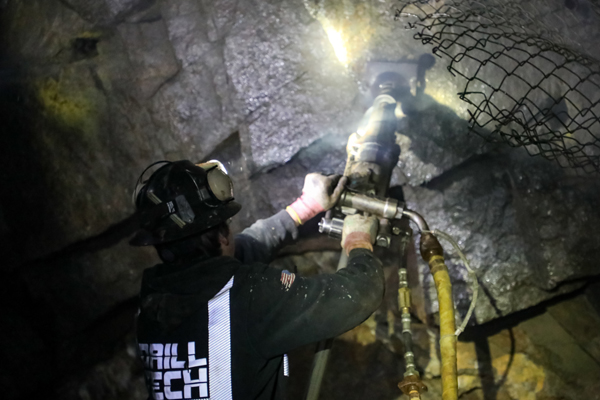 Mining Engineering
Design, construct, and manage surface and underground mines around the world with a degree in Mining Engineering from Montana Tech.
Connect with us.
We can answer your questions and help you get started.
Dr. Glenn Shaw
Professor and Department Head
gshaw@mtech.edu
406-496-4809