Electrical Engineering, M.S.
Why Study Electrical Engineering at Montana Tech?
You'll learn from industry-experienced—and connected—faculty passionate about your success. Nearly all your courses will include lab components taught by registered professional engineers who hold the highest degree in the field.  
Track Record of Research Excellence 
Montana Tech's Electrical Engineering faculty have an excellent track record in attracting research projects funded by industry and government. The projects provide students the opportunity to solve many challenging real-life engineering problems. Recent funded graduate research projects include:
Development of a battery diagnostic instrumentation system for NASA for next-generation hybrid and electric vehicles. Several students worked closely with researchers from the Idaho National Laboratory.

Development of blade pitching control algorithms to improve the efficiency of wind turbines. Many of the concepts are now used in industry.

Researching new control schemes for improving performance and preventing blackouts in large power grids. Students work closely with other universities, industry, and researchers from the Pacific Northwest National Laboratory. 

Working with researchers at the Idaho National Laboratory, students are designing and implementing an instrumentation and control system for mine-waste remediation.
Focus on Real-Life Problems

 
Work with faculty on groundbreaking research that addresses real-world challenges.  For example, Montana Tech students helped develop a game-changing smart-grid system that won an R&D 100 Award—an "Oscar of Invention." The honor placed Montana Tech among big-league research players like MIT and Stanford. 
World-Class Electrical Engineering Labs

 
Learn to make electric power safer, more dependable, and more affordable in power-system laboratories at Montana Tech's Natural Resource Research Center (NRRC). 
 Thanks to support from Schweitzer Engineering Laboratories—a top employer of Montana Tech grads—the NRRC houses state-of-the-art labs dedicated to protection, energy conversion, power plant systems, and training. 
Ideal Location for Study and More

 
Live and learn in Butte, an outdoor paradise. Six mountain ranges surround campus, with two nearby national parks and two rivers await weekend recreation. 
 Or join our student chapter of IEEE, the world's leading professional association for technological advancement, or the NASA Robotic Mining Competition Club, which competes annually at Kennedy Space Center in Florida. 
Accelerated Master's 
Qualified Montana Tech undergraduates have the opportunity to receive an accelerated MS program by getting a jump start on required graduate coursework. 
Accelerated Option Available

10:1 Student-Faculty Ratio
What Is Electrical Engineering?
Electricity efficiently transports energy and information. Electrical engineers discover how to harness electricity for the benefit of people and communities everywhere. 
Electrical engineers design, develop, test, and supervise manufacture of electrical equipment. Their work is incredibly important. It powers homes and businesses, delivers information, makes food more available, and improves medical care and quality of life. 
What Kinds of Jobs Do Electrical Engineers Get?

 
Montana Tech's electrical engineering graduates work in the minerals industry, renewable energy, semiconductors, microprocessors, controls, consulting, and more.  
Their employers include Idaho Power, Electrical Consultants Inc. (ECI), NorthWestern Energy, Power Engineers, and Schweitzer Engineering Laboratories (SEL). Some alumni go on to graduate school at Montana Tech or other institutions. 
My time in electrical engineering was fantastic. Close connections with industry leaders opened up doors to great internships and jobs for my classmates and me. We all had at least one job offer by the time we graduated.

Patrick Cote

B.S. Electrical Engineering 2018, M.S. Electrical Engineering 2019
Explore Classes in Electrical Engineering
As an electrical engineering student, you'll study topics like electrical grid stability, grid monitoring, power protection, and instrumentation and controls.  
You might choose courses that focus on protecting the power grid from natural or human threats, energy conversion systems that link electricity supplies and uses, or telecommunications systems. See more course details in Montana Tech's academic catalog. 
Learn More About Electrical Engineering at Montana Tech
Electrical Department
Meet faculty, explore our research expertise, and more.
Mines & Engineering
Explore other programs in the School of Mines and Engineering.
Catalog Details
Get semester-by-semester info about graduate electrical engineering courses.
Related Programs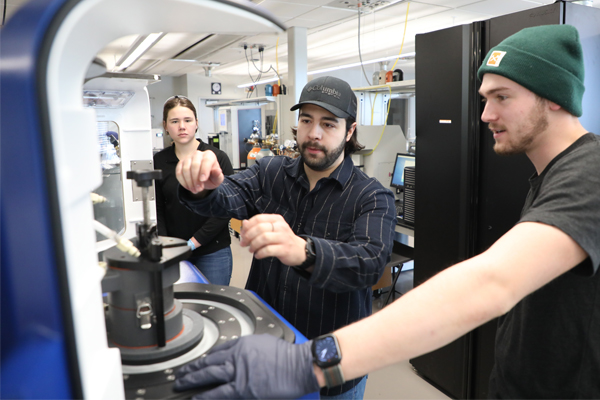 Mechanical Engineering M.S.
Learn to design and build machines from small devices to spacecraft and prepare for an in-demand, high-pay career.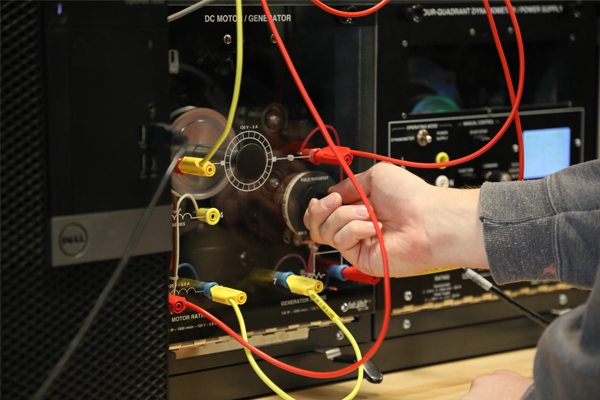 Electrical Engineering B.S.
Go further with advanced study of energy and power, automation and controls, signal processing, and instrumentation.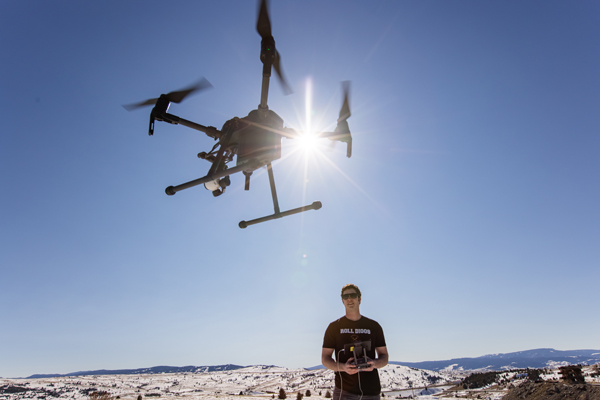 Unmanned Aerial Systems, Certificate
Graduate and undergraduate certificates are available. Become a FAA Part 107 Certified drone pilot and learn to process data collected from the air.
Connect with us.
We can answer your questions and help you get started.
Bryce Hill
Department Head and Associate Professor
bhill@mtech.edu
406-496-4752