Prepare for cutting-edge computing careers by gaining practical experience designing, building, testing, and maintaining software systems through the ABET-accredited bachelor's degree in computer science at Montana Tech.
Why Study Computer Science at Montana Tech?
For 15 straight years, Montana Tech's job placement rate for our graduates was 100%. You can focus your computer science degree by choosing a concentration in business applications, electronic control systems, engineering applications, statistical applications, technical communications, or game development.
Through the computer science degree, you'll learn from world-renowned Montana Tech faculty who bring deep industry experience and broad academic interests to you. These expert scholars will be accessible and provide the mentoring you need to succeed at Montana Tech and in computer science degree jobs. The mission, vision, and goals of the computer science department are centered on you.
As a computer science major, you'll benefit from Montana Tech's small student-to-faculty ratio, astonishing hands-on learning environment, engaging computer science internships, and a current and relevant curriculum that ensures you're prepared to succeed in computer science degree jobs.
State-of-the-Art Labs and Equipment
At Montana Tech, you'll benefit from easy access to lab computers, state-of-the-art equipment, and a suite of servers for research and project work. We also have the heterogeneous computing platform Hydra.
Computer Science Internships
During your upper level years as a computer science major you'll gain real-world experience through computer science internships. Montana Tech computer science students have interned all over the country for top companies and organizations, including Google, Dish Networks, Micron Technologies, and the City of Butte.
Be Career Ready
Montana Tech will go beyond giving you the knowledge and skills you need for computer science degree jobs to making sure you have the communication and interpersonal skills you need to be part of a team in a real-world environment. From engaged computer science faculty to Montana Tech's outstanding Career Services, you'll have the resources, support, and connections to secure computer science internships and jobs.
Spectacular Location
Montana Tech's location in Butte, Montana, provides an ideal place for you to pursue your computer science degree. You'll have access to computer science internships and other opportunities for hands- on experience — right here in Butte and in nearby cities, such as Bozeman and Missoula. Spend your study breaks in Montana's beautiful outdoors with opportunities to hike, ski, and fish in and around Butte and across the state.

What is Computer Science?
Computer science is the study of computers and computing concepts, such as hardware, software, networking, and the Internet. It includes many branches, such as artificial intelligence, programming, software engineering, and computer graphics. Put simply, computer scientists use technology to solve problems, from writing software to make computers work more efficiently to creating mobile apps, in every industry.
What Kinds of Jobs Do Computer Scientists Get?
With the computer science degree you'll be prepared for a wide array of computer science careers in Montana and across the country and the world. Graduates of the Montana Tech computer science degree program hold a variety of positions, including computer programmer, database administrator, and computer systems analyst. They also hold advanced degrees in computer science and related fields.

20% Projected Job Growth
By 2032

$97,430 Average Starting Salary
For computer/information tech jobs
I chose Montana Tech because of its outstanding placement rate for Computer Science students and its reputation for academic excellence. I've always been interested in computing systems and how they work, which led me to Computer Science. I'll graduate with a Bachelor of Science in Computer Science with a Business Application Option, as well as an Associate's Degree in Network Technology. Throughout my journey at Tech, I've always felt academically-challenged to produce high-quality work and this training will help me be successful in my career.

Terra Miller

B.S. Computer Science, 2019

Bozeman, Montana
Explore Classes for the Computer Science Degree
During your first year, you'll take a freshman seminar course that will introduce you to the computer science field, as well as software engineering. Programming is a key part of nearly all of your computer science courses. You'll build on your knowledge and skills through studies in discrete structures, embedded systems, and database management. You'll have a full year of data structures and algorithm analysis. Upper division courses branch into areas such as software engineering, computer architecture, operating systems, programming languages, artificial intelligence, networking, web science, and the theoretical foundations of computing. As a computer science major you'll automatically complete the requirements for a mathematics minor.
Learn More About Computer Science at Montana Tech
CS Department
Meet faculty, explore our research expertise, and more.
Catalog Details
Get semester-by-semester info about computer science courses.
Related Programs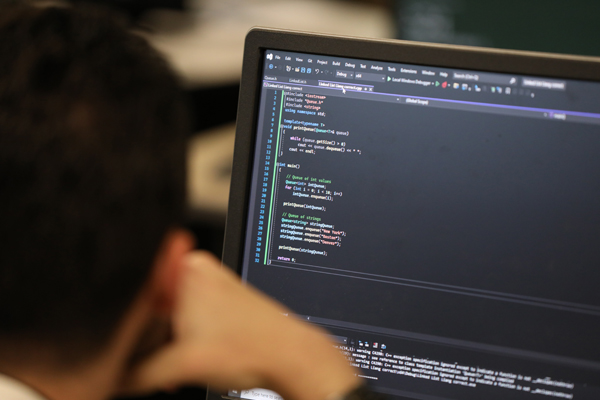 Software Engineering
Gain experience designing, building, and maintaining software systems.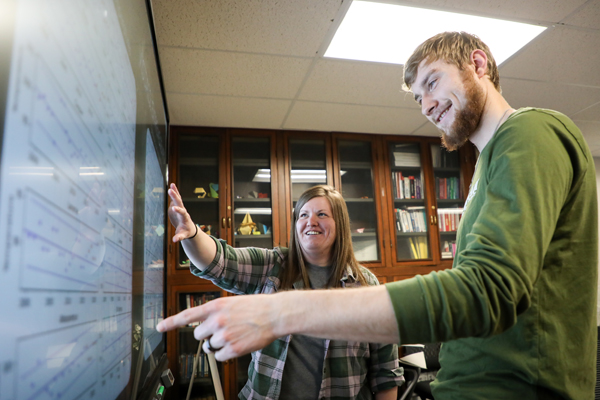 Data Science
Study rigorous courses in data science, statistics, & computer science.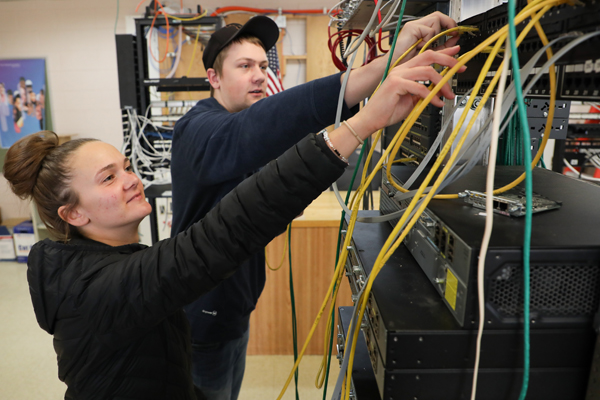 Cybersecurity
Design, develop, secure, & support computer networks with a cybersecurity degree.
Connect with us.
We can answer your questions and help you get started.
Susan Schrader
Department Head
406-496-4796
sschrader@mtech.edu