Montana Technological University celebrates naming of the Lance College of Mines & Engineering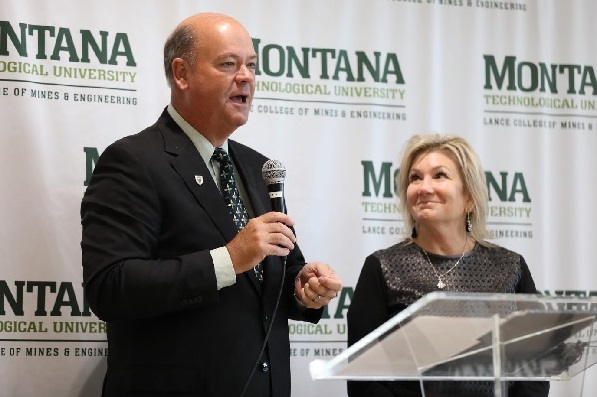 At the Montana Board of Regents meeting this morning on the campus of Montana Technological University, the Regents voted to approve the name change of Montana Technological University's School of Mines & Engineering to the Lance College of Mines & Engineering. The renaming honors Montana Tech alumnus Ryan Lance and his wife Lisa, whose gift of $31 million last spring was the largest in university history.
Ryan Lance (Petroleum Engineering, '84) is a graduate of Great Falls High School, who worked his way through college at Montana Tech as a roughneck in the oilfield. Over the past four decades, Lance ascended to the highest level of management for the world's largest energy exploration and production company. He has served as the CEO of ConocoPhillips since 2012.
The Lance College of Mines & Engineering is one of four schools or colleges under the university, which include:
College of Letters, Sciences, & Professional Studies (CLSPS)
Highlands College
Graduate School
The Lance College of Mines and Engineering has a century-long history of educating graduates to solve some of the world's most challenging and complex problems. The Lance College of Mines & Engineering houses civil, electrical, environmental, geological, mechanical, metallurgical and materials, mining, and petroleum engineering along with computer science, and safety, health and industrial hygiene degree programs. CLSPS offers a diverse number of degree programs that include biological sciences, business, chemistry, data science, exercise & health science, geochemistry, interdisciplinary arts & sciences, mathematical sciences, and nursing. Highlands College is home to career-ready and transfer programs that help build the workforce we need in Butte and Montana. From certificates and associate degrees to community education and customized training, Highlands offers hands-on professional programs leading to tomorrow's important jobs. Montana Tech's Graduate School equips students with the 'hands-on' know how that will be essential to solve the vast societal challenges in energy, environment, materials, and health. 
The historic gift is funding the Lance Scholars Program, which provides the means to make a Montana Tech education possible for more Montana students. The Lance Scholars Program will annually provide 50 in-state students with the opportunity to receive a $4,000 per year scholarship, renewable for up to an additional three years (up to $16,000 total).
Upon acceptance to Montana Tech, qualifying students will receive a link to apply for the Lance Scholars Program and submit materials on their personal URL (PURL) page.
The gift also funds an endowed Lance Energy Chair, which will expand Tech's expertise in STEM and establish the institution as a leader in energy, environment, and sustainability. The position will collaborate with academic programs across campus and develop unique multidisciplinary opportunities to expand research, modernize curriculum, and further industry engagement and commercialization. Digger Athletics will receive $1 million towards scholarships, generating greater access for student-athletes to compete and achieve on and off the field. 
For more information about the Lance Scholars program, please visit www.mtech.edu/lancescholars