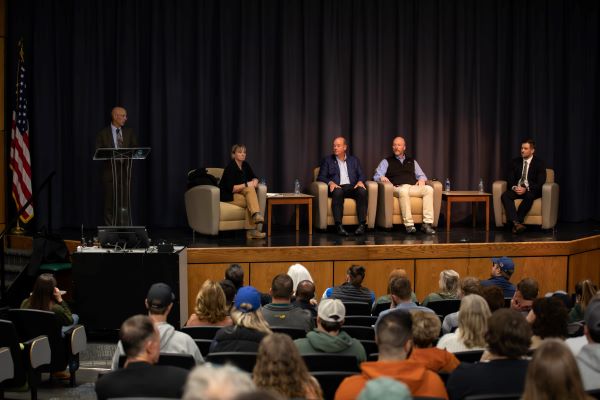 National industry leaders stressed the importance of an interdisciplinary approach to solving global energy issues in a panel hosted Sept. 22 at Montana Technological University.
Panelists included Chairman and CEO of ConocoPhillips Ryan Lance, founder and CEO of Validus Energy Skye Callantine, Engineering Director at Schweitzer Engineering Laboratories Bill Glennon, and Interim Director of the Center for Environmental Remediation and Assessment at Montana Tech Dr. Robin Bullock. All panelists are Montana Tech alumni.
"The reality of the situation is that all forms of energy are going to be required to power the world forward over the next few years," Lance said. "If you are worried about the advancement of the human condition, there is nothing more important than affordable and reliable energy."
Lance said an "all of the above" approach will be needed to power the world as its population is expected to grow from approximately 8 billion people to 10 billion over the next two decades.
"Where the wind blows, it's going to take wind energy," Lance said. "It's going to take solar. It's going to take nuclear. We've got to figure out how to make coal cleaner and probably some fossil fuels like oil and gas, and probably some nature-based solutions as well."
In that multi-faceted approach there are questions each industry has to answer.
"How do you deal with the impacts of wind," Lance noted. "Today blades are indestructible and non-biodegradable. What do we do about that? Solar takes up a big huge footprint. How are we going to deal with that… nuclear, how do we make it safe?"
Within the oil and gas industry, three major issues have to be solved, according to Lance: methane emissions that leak from facilities, flaring of natural gas that occurs because there is no where to store it, and emissions from orphan wells that have been abandoned and leak methane into the atmosphere.
Glennon explained that energy to power the electricity grid needs to be delivered instantaneously, which is difficult to do at times due to the intermittent nature of wind and solar. As his industry grapples with how to make these intermittent sources more reliable, the cost of energy as also risen, particularly in places where more traditional sources like coal have been retired.
"Costs and reliability start to go hand in glove," Glennon said. "Your costs skyrocket… It creates a lot of challenges for the designers and operators of the power system to be able to provide reliable power and the impact of higher costs is really to those who have the least among us."
Dr. Robin Bullock spoke about Montana Tech's recent efforts to create an Energy and Environment Innovation Field Campus Area and how it would connect students and researchers with those in need of energy solutions in industry.
"You have innovation, you have integration, you have scientific rigor and collaboration," Bullock said. "I think a lot of these things we are talking about is whether we have a scientific basis for the decisions that we make. Having Montana Tech be that unbiased scientific entity is a really good thing."
The goal is to explore energy solutions on campus that can be implemented in the real world.
"Being able to drive innovation from bench scale to field scale is one of the concepts that we have," Bullock said. "How can we make it so that we can create and energize our community to do things in a big way so we can actually make forward progress from our bench scale and our lab scale where we are doing great research? How can we get that into industry's hands and community's hands that much quicker?"
Montana Tech's diverse fields of study allow the campus community to tackle these questions from numerous angles, Callantine noted.
"This university is designed to have the entire value chain of the entire energy system," Callantine said. "Whether you are geoscience in exploration or in petroleum or mining and extraction, (to) all of the mechanical and electrical and things that go along with building the equipment and design,  (to) the safety people alongside all those people who need to go work, (and) the environmental- all this stuff needs to be sustainable." 
To watch a recording of the event, click here.