ConocoPhillips CEO encourages Montana high school students to follow their passion with help of new scholarship at Montana Tech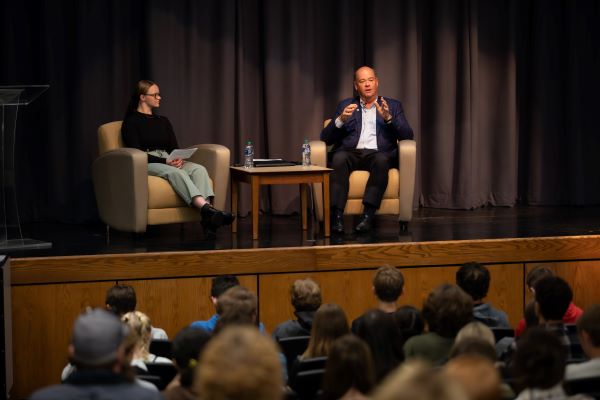 BUTTE, Mont. – ConocoPhillips CEO Ryan Lance told students from western Montana high schools to follow their passion as they choose what to do after graduation, in a question and answer session hosted Friday by Montana Technological University. Schools in attendance included Butte High School, Butte Central High School, C.M. Russell High School and Great Falls High School in Great Falls, Jefferson High School, and Anaconda Jr./Senior High.
"You make a couple of big decisions in your life and you are coming upon one: what are you going to do?" Lance told the students.
Lance graduated from Montana Tech's petroleum engineering program in 1984 and recently donated $31 million to the school that will fund 50 $4,000 per year scholarships for resident Montana students renewable for up to four years. He encouraged the high schoolers to consider using those funds to pursue a career of purpose, that they can also enjoy.
"Whatever your passion is, that scholarship is available to you," Lance said. "You've got an outstanding school in Butte that can prepare you extremely well."
Lance told the students of his experience as a Great Falls senior who decided to balk the family tradition of going to Montana State University in Bozeman after a transformational visit to Butte. He spoke of how he worked summers in the oilfields of numerous different states to pay for tuition. He found he liked the work and the people in the industry, and decided to make a career of it.
He attributed his success to "luck, hard work and a good foundation," as well as a supportive family that moved 10 times in 11 years to facilitate an ascending career that took him all over the U.S. and allowed him to rise from a $45,000 salary in his first year of working, to making the historic donation. Now, Lance and his wife Lisa say that they want to help change the trajectory of Montana residents' by helping fund a high-quality education.
The Lance Scholars application is short and simple. Applicants will be asked in 3-5 sentences to answer the question: During your time at Montana Tech, what is one thing you'd like to learn or experience that has the ability to effect change in the world?
All Montana high school seniors with a GPA of 3.0 or higher are eligible to apply. The scholarship will also be available to transfer students and students matriculating from Highlands College to Montana Tech.
For more information, click https://www.mtech.edu/lancescholars/.
To view the entire session with Ryan Lance, click here.