Students showcase summer research projects at SURF Symposium
Dozens of undergraduate students filled the Students Success Center on Thursday to celebrate a summer of research.
The Summer Undergraduate Research Fellowship (SURF) Poster Symposium featured students with a number of different backgrounds and projects.
"Our SURF program is truly at the heart of what differentiates a Tech education," Vice Chancellor for Research Dr. Angela Lueking said. "Students work side-by-side with faculty to explore unknown questions and create new knowledge.  This enriches faculty experience while exposing our students to the profession.  The Tech undergraduate research program truly stands out relative to our competitors."
Thomas Chan, a biochemistry senior from Brigham Young University in Rexburg spent this summer working with the Professor of Environmental Engineering Dr. Raja Nagisetty to develop spectral signatures from drone and satellite-based remote sensing data to characterize mine tailings.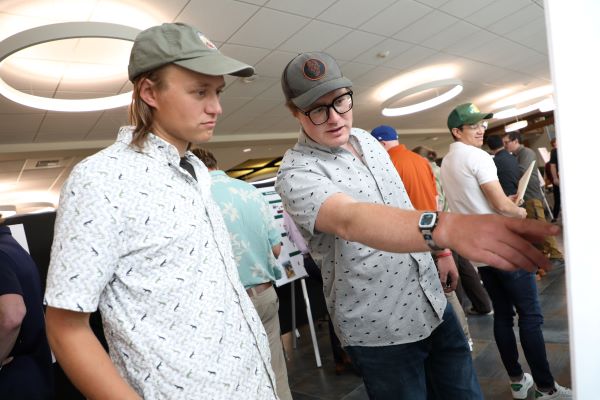 Chan studied the spectral profiles of phosphoric and pyrite minerals. The long-term goal is to determine if there are enough recoverable minerals in the tailings to financially justify further processing in the future.
"This could be very helpful to locate where minerals are available," Chan said. "I learned a lot, especially using different software. The project was useful and practical."
Chan plans to get back to biochemistry at BYU this fall, but work on his project will continue at Montana Tech. "It's an excellent project, and Thomas has done a great job," Nagisetty said. "Drone-based remote sensing methods allow for inexpensive and repeated data collection for characterizing mine tailings that have re-mining potential."
Three Montana Tech students, Shelby Paulson, Dawson Roesti, and Michael Ure, presented their research into the prevalence of bartonella infection in deer mice. They used samples from Biological Sciences Professor Dr. Amy Kuenzi to conduct the experiment.
The team used PCR tests to identify positive samples, and sent those samples for further gene sequencing. Different types of bartonella infection can cause cat scratch fever, Oroya fever, verruga peruana, Carrion's disease, and trench fever.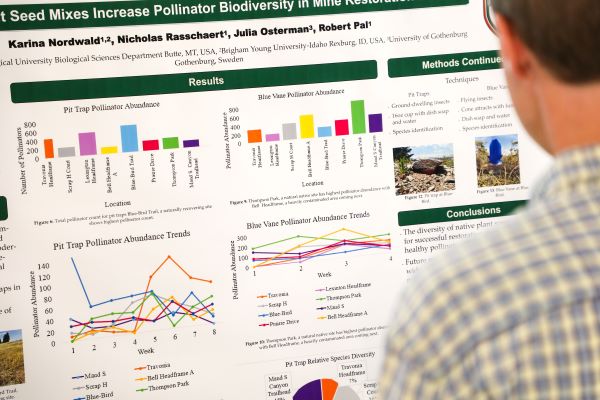 "We care about this project because it is hard to diagnose bartonella in humans and other species," Paulson notes.
Finding the prevalence of the infection and sequencing it amongst different species is just the first step in getting better diagnostic tools.
Transfer student Keith Moore spent his summer studying DNA sequences of the rhizosphere in the Clark Fork drainage. The rhizosphere is the area where microbes are found surrounding plant roots. Moore had a tricky bit of sequencing that kept repeating itself. He figured out how to remove the repetition so those who continue research in this area can get better results more quickly. Moore is set to graduate in Spring 2023 with a degree in organismal biology.
He says he has greatly enjoyed the research experience at Montana Tech. He earned his associate's degree from Flathead Valley Community College and transferred to one of the state's flagship universities prior to his time at Montana Tech. He discovered he had more opportunities to get in the lab at Tech.
"Research here is way more cooperation than competition," Moore said.