Faculty continue Aplan's legacy by winning award in his name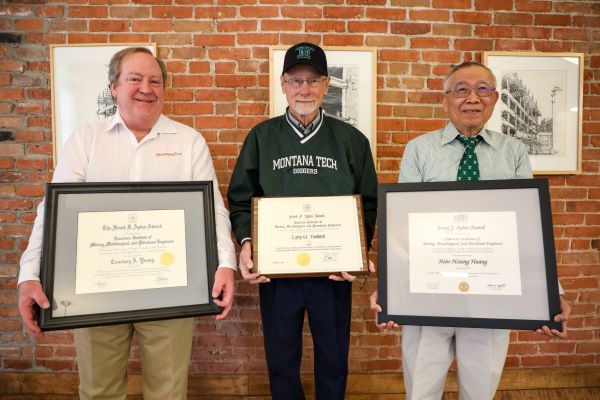 August 11 marks the 100th anniversary of the birth of one of Montana Technological University's notable alumni.
Frank Fulton Aplan has been called "one of the most influential leaders of the mineral processing industry and academia" by the National Academy of Engineering.
Aplan earned his M.S. in Mineral Processing from the Montana School of Mines in 1950. He also held a B.S. degree in metallurgical engineering from the South Dakota School of Mines and Technology, and Sc.D. degree in mineral engineering (metallurgy) from the Massachusetts Institute of Technology.
After working in industry for 15 years, Aplan was named Professor and Department Head of Mineral Processing at The Pennsylvania State University. Aplan arrived there in 1968 and taught until 1992, though he continued to conduct research for a decade after that. Aplan passed away in 2020 at the age of 97.
The American Institute of Mining, Metallurgical, and Petroleum Engineers created the Frank F. Aplan Award in 1989. In the years since, three Montana Tech alumni have won the award, which is awarded by AIME in recognition of engineering or scientific contributions that further the understanding of the technology of coal and/or mineral processing.
Dr. Larry Twidwell, Professor Emeritus, won the award in 2004. Dr. Twidwell taught at Montana Tech for 40 years. One of his primary focuses was implementing metallurgical processes that were more environmentally sustainable.
"It was an honor to know and interact with Dr. Aplan," Twidwell said. "He was a gifted mineral processing engineer and a talented teacher and mentor to many engineering students. Frank had many great stories, and I loved interacting with him and listening to him talk about his years in mineral processing."
Dr. Courtney Young won the award in 2009. Young is the Lewis S. Prater Distinguished Professor of Mineral Processing & Extractive Metallurgy. He joined the faculty at Montana Tech in 1993. His mineral processing and extractive metallurgy specialties include mineral analysis and characterization, flotation, physical separations, leaching, cyanide, uranium, base and precious metal processing, and adsorption.
"Being recognized for hard work by your peers is a huge honor, particularly when the award is as prestigious as the Frank Aplan Award," Young said. "This is particularly special because it is not only given regarding mineral processing research and education but is named after one of Montana Tech's most famous alums. It helps students understand they will receive a top engineering education, graduate into great paying jobs, and go on to have very productive careers."
Dr. Hsin-Hsuing Huang won the award in 2022. Huang joined the faculty of Montana Tech in 1978 and taught for 40 years, before retiring and becoming a professor emeritus. Huang's primary research focus was process analysis and modeling. He authored StabCal, a software package used to perform thermodynamic calculations and process simulations.
What people should understand about Dr. Aplan was his philosophy in life was about paying it forward. This tradition is continued through the hardworking faculty in the Department of Metallurgy and Materials Engineering. To learn more about studying within this department, click here.