Kegel uses engineering background to manage projects on 25 million acres of federal lands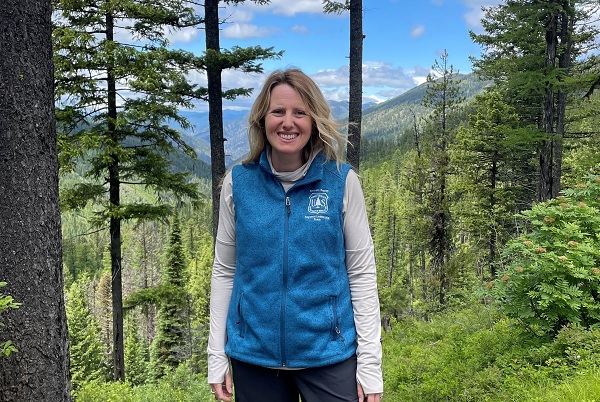 From extensive trail maintenance in the Bob Marshall Wilderness to resurfacing of the iconic Hiawatha Trail and the local Delmoe Lake Road, the passage of the Great American Outdoors Act brought historic investment for the nation's public lands.
In the U.S. Forest Service's Region 1, there is an Oredigger alumnae managing the dozens of projects the Great American Outdoors Act has funded across 25 million acres of public lands in national forests and grasslands in northern Idaho, Montana, a sliver of northeastern Washington, North Dakota and South Dakota.
Corrie Kegel (B.S. Engineering- Mechanical Option '04, M.S. '06) has worked for the federal government for 17 years.
"Currently, I am the Great American Outdoors Act (GAOA) Coordinator for the Northern Region," Kegel said. "I accepted this position shortly after the Act was passed in 2020. I work at the Regional office in Missoula coordinating budget, program resources, project risks and highlighting success stories with the 9 National Forests and 1 Grassland, as well as the Washington Office to implement deferred maintenance projects on our public facing assets."
Kegel came to Montana Tech from Thompson Falls.
"Growing up I had an aptitude for math and science," Kegel said. "I was considering both teaching and engineering as potential career paths. Ultimately, I received scholarships to attend Montana Tech, which finalized my decision to pursue engineering. I enrolled in general engineering; mechanical option and it was a natural fit."
Kegel now lives in Huson, a small community that is a short commute from her office in Missoula. She says her time in the engineering program helped set her up for success working for the federal government.
"Montana Tech laid the foundation for my career with the Forest Service," Kegel said. "At Tech I learned how to solve complex problems with a 'keep it simple' mindset. At the Forest Service, I learned the importance of interdisciplinary teams and how to apply my technical expertise and engineering skills gained at Tech to oversee diverse engineering projects. I've worked on projects ranging from conveyance (sale) of administrative sites, rails-to-trails tunnel and trestle rehabilitation, upgrading HVAC and control systems in wind tunnels for fire research, design and construction of roads for campgrounds, and renovation of 1910 historic building for office space to name a few."
Kegel says the Forest Service is a great place to work. 
"I would recommend Forest Service to engineers or anyone looking for diverse experiences, opportunities to collaborate with many natural resource areas and working on projects from cradle to grave," Kegel said.  "The Forest Service motto is 'Caring for the land and serving the people.' If you are passionate about natural resources and looking for rewarding, challenging, dynamic career serving the greater good the US Forest Service is an excellent employer. Open vacancies can be found here: USAJOBS - Search."