Montana Tech ASCE Club to co-host, compete in Northwest Student Symposium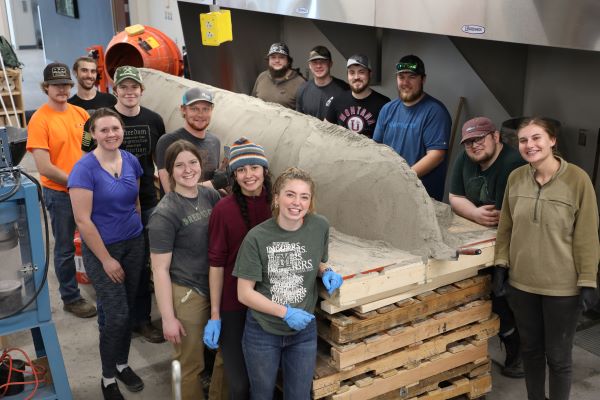 Montana Technological University's American Society of Civil Engineers (ASCE) Club will compete in the Pacific Northwest ASCE Student Symposium at Montana State University on April 14-15, 2023. Montana Tech co-hosts the Symposium with Carroll College, Montana State University, and Montana State University-Northern. 
Assistant professor and lab director Bret Robertson advises the team. Montana Tech students and team members include Cauy Wyric, Avery Londo, Jayden Petroff, Hunter Buffum, Holden Bailey, Wayne Ascheman, Jared Griffith, Mehana Benson, Ty McGurran, Tucker Greenwell, Grady Koenig, Pierce Brown, Sami Connerton, Rhett Donnelly, Evan Johnson, Gavin Dolechek, Mattias Brand, Rilee Green, Koby Martin, Maria Burke, McKoy Gebhart, Lamb Rowdy, St. John Tyson, and Landers Smith. 
Twelve university teams will compete this year. Other universities participating in the 2023 events are Gonzaga, Oregon Institute of Technology, Oregon State University, Portland State University, Saint Martin's University, Seattle University, University of Alaska Anchorage, University of Alaska Fairbanks, University of British Columbia, University of Idaho, University of Portland, University of Washington, and Washington State University. 
Montana Tech will be the only university in attendance to compete in all six competitions. On Friday, the team will compete in steel bridge, paper competition, timber strong, sustainable solutions, and surveying. 
On Saturday, Montana Tech will compete in the concrete canoe races. Since the early 1970s, American Society of Civil Engineers (ASCE) student chapters have competed to be the best at designing, constructing, and racing concrete canoes. During that time, canoe mixtures and designs have varied, but the long-established tradition of teamwork, camaraderie, and spirited competition has been constant. Each year, teams, their associates, judges, and other participants build upon this tradition. This year, teams answered a call for Technical Proposals and Enhanced Focus Area Reports and are competing to be the winning bid on a prototype standardized canoe design for future concrete canoe competitions. Montana Tech competed in concrete canoe for the first time in 10 years in 2022. 
"It is exciting to co-host the competition in Montana," noted Robertson. "The regional ASCE symposium is in Montana once a decade or less as each of the 16 hosts take turns."
The American Society of Civil Engineers (ASCE) has over 150,000 members globally, both on the collegiate and professional levels. Student chapters of ASCE are connected to universities nationwide, providing college students with the resources and opportunities they need to succeed in becoming civil engineers. By joining the Montana Tech chapter of ASCE, you will be connected with other civil engineering students who are further along in their degrees, be able to network with many different professionals through our speaker events, go on field trips to various civil engineering facilities, and participate in fun and skill-building civil engineering activities. On the national level, being a member of ASCE will give you access to many resources, including career resources, mentorship programs, scholarships and fellowships, and much more!
Montana Tech offers a bachelor of science in Civil Engineering and a master's degree in General Engineering. Montana Tech's Civil Engineering Department empowers students to identify and solve complex engineering problems by applying engineering, science, and mathematics principles through the ABET-accredited bachelor's degree program.Dedicated faculty are at the forefront of their field, with numerous opportunities to assist in ongoing research open to both graduates and undergraduate students.
For more information about Montana Tech's civil engineering program, please visit https://www.mtech.edu/civil-engineering/index.html.