International Journal of Plasticity publishes research article co-authored by Montana Tech faculty member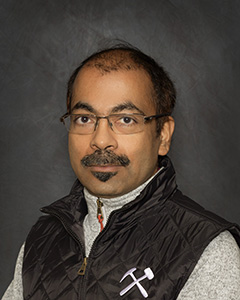 The International Journal of Plasticity has accepted an article co-authored by a Montana Tech faculty member for its upcoming April 2023 edition.
Brahmananda Pramanik is an associate professor of the Mechanical Engineering Department and Materials Science and Engineering Graduate Program. He supervises and promotes Impact Technology Research encompassing dynamics, vibrations, materials, and additive manufacturing, and teaches dynamics, fluid mechanics, mechanical vibrations, impact dynamics, and the dynamic behavior of materials. He is co-author of the peer-reviewed research article "Correlated structure viscoplastic self-consistent polycrystal plasticity: Application to modeling strain rate sensitive deformation of Ti-6Al-4 V," which successfully interprets strain rate-sensitive mechanical response and microstructural evolution of additively manufactured Titanium (Ti-6Al-4 V) alloy. 
Pramanik explained the significance of the research.
"Ti-6Al-4 V is a widely used alloy of Titanium. Its specific mechanical properties make it suitable for applications, particularly in marine, aerospace, power generation, chemical, and medical industries," Pramanik said. "Complex microstructures of Ti64 demand sophisticated material models to predict and interpret the behavior of the metal alloy."
The CS-VPSC  material model was developed at the University of New Hampshire and experimentally verified at Montana Technological University. DEVCOM Army Research Laboratory and Montana Technological University funded Split-Hopkinson Pressure Bar (SHPB) experimentation. A Graduate Student of Montana Tech, Kristofer Kuelper, was acknowledged for helping in the SHPB tests and data analysis.  
The article has been online since February. To access, click here.