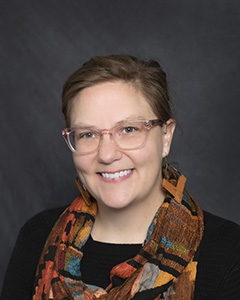 HARP NAMED TO MONTANA STATE BOARD OF RADIOLOGIC TECHNOLOGISTS
Montana Governor Greg Gianforte has appointed Montana Technological University radiologic technology program director Tamara Harp to a three-year term on the Montana State Board of Radiologic Technologists. The appointment received unanimous Senate approval. 
Harp, who was nominated for the position by former board member Dan Funch, has worked at Highlands College of Montana Tech since 2017. She has been a registered radiologic technologist since 2006, earning valuable experience working throughout Montana and Washington; recently, she earned a Master of Science in Radiologic Sciences degree.
"The board appointment is an exciting opportunity for me to combine my experiences as a technologist and teacher to serve as a strong advocate for our profession and help to uphold the board's mission to protect the health, safety, and well-being of Montana citizens," noted Harp.
"I am fortunate to work with Tamara Harp," explained Karen VanDaveer, dean of Highlands College. "Her dedication, knowledge, and expertise have made the Highlands College radiologic technology program successful. Her love of students, combined with a passion for her profession, is remarkable. Through Tamara's leadership, the citizens of Montana will receive exceptional care."
Montana Tech offers an associate of applied science degree in radiologic technology. Students in the program learn to master the required technology as a radiographer and become vital patient care team members. With time spent in both clinical and classroom settings, students in the program experience hands-on, real-life experiences working with the latest equipment and technology, preparing them for ARRT certification and registration in radiography, and entering the workforce as registered radiologic technologists. 
For more information about the radiologic technology program, please visit https://www.mtech.edu/radtech/index.html.