Montana Tech Students Take Top Accolades at PNWIS Air and Waste Management Association Challenges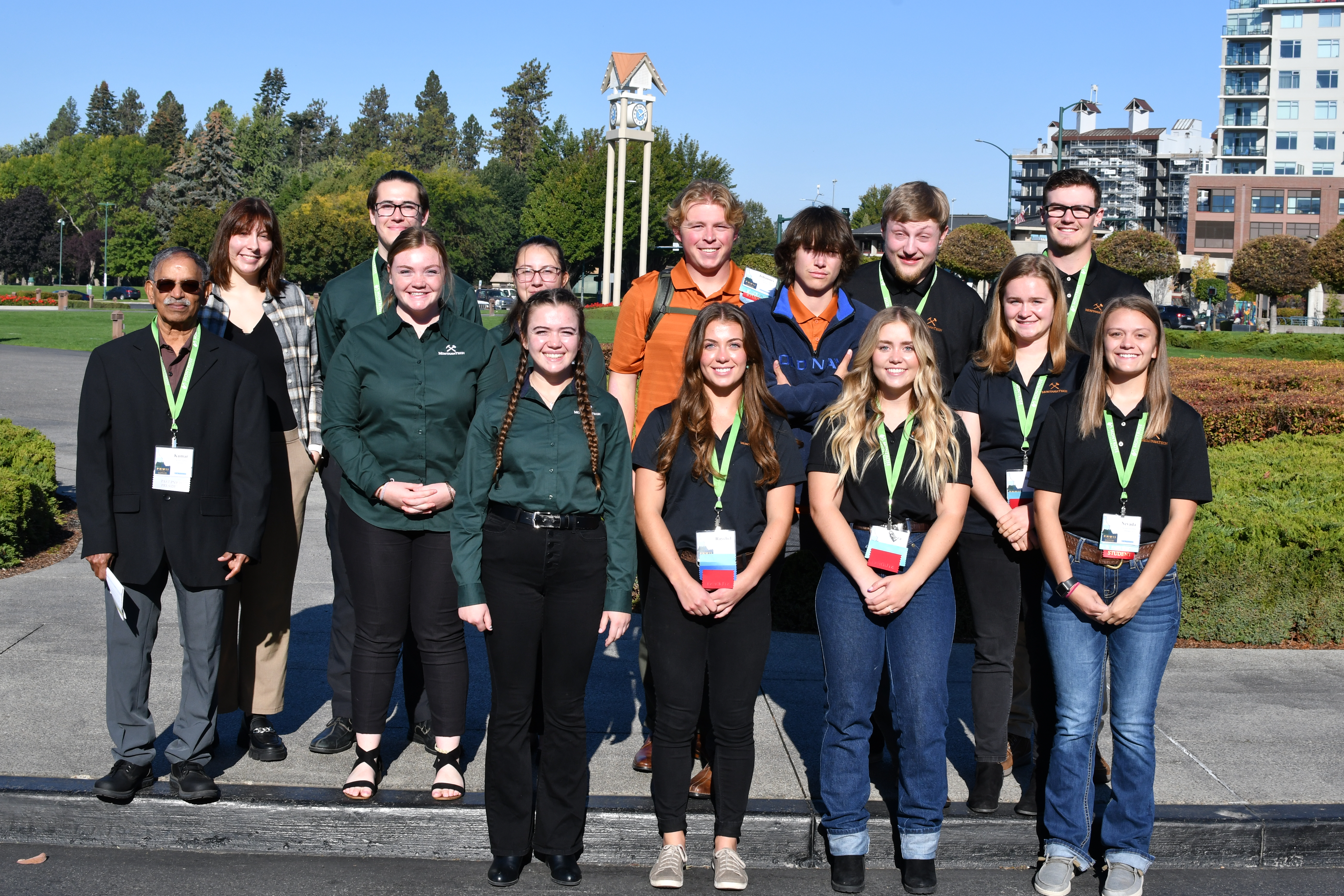 Montana Tech students commanded the competition at the 60th annual conference of the Pacific Northwest International Section (PNWIS) of the Air & Waste Management Association, held in Coeur d'Alene, Idaho on Oct. 11.
More than a dozen representatives of Montana Tech attended the conference, which was held for the first-time post-pandemic. Three student teams from Montana Tech competed in the Environmental Challenge, which allows students one month's time to develop solutions to a mock environmental problem. They were then judged on the solution's technological, economic, safety, policy regulation, and community involvement aspects. This year's Challenge required students to think up ways to address the needs of a fictional town in Idaho struggling with energy demands as climate change lowered the amount of water available for a local hydroelectric dam.
The Challenge posed to student teams simulates a real-world situation that the students may have to solve after graduation. This Challenge gives them a good taste of future problem-solving skills. Montana Tech graduates are well known for their ability to solve challenging problems with ease. They must author a report, present a PowerPoint presentation, and defend their solution to multiple judges and audiences. Montana Tech students did an outstanding job!
Montana Tech's team of Grace Mulholland, Jessica Harmon, Ravyn Goodwin, Mayah Lemke, and Benjamin Schreiber took first place.
"I am very proud of my team and all the students that participated at the conference," Grace Mulholland said. "It's not often to have a team of students from freshmen up to seniors compete together. I feel very fortunate that the Environmental Engineering department pushes for students to participate in professional development conferences."
Montana Tech also took home third and fourth places. The teams included Kara Nye, Matthew Ingersol, Gavin Rahl, Nevada Strandberg, Bridget Lee, Raychel Hoerner, Johannes Chandler, and Daniel Leas.
In a separate competition, three undergraduate students and two graduate students gave technical presentations on research projects they had underway. Graduate student James (Mathew) Fronk received first place for best paper. Undergraduate students Ben Schreiber and Gavin Rahl took second and third places, respectively, for their presentations.
While the competitive results once again reiterate that Montana Tech is among the best Environmental Engineering programs in the Pacific Northwest, the conference also allowed students to network with professionals in the field.
"Our students also had fun! After the pandemic, we all needed fresh air and social interaction and networking, and our students needed that more than ever," Environmental Engineering Department Head Kumar Ganesan said. "This conference gave them the opportunity, and I am incredibly happy about it and the competition."