Montana Tech Entering Into Historic Agreement with Naval Undersea Warfare Center Division, Keyport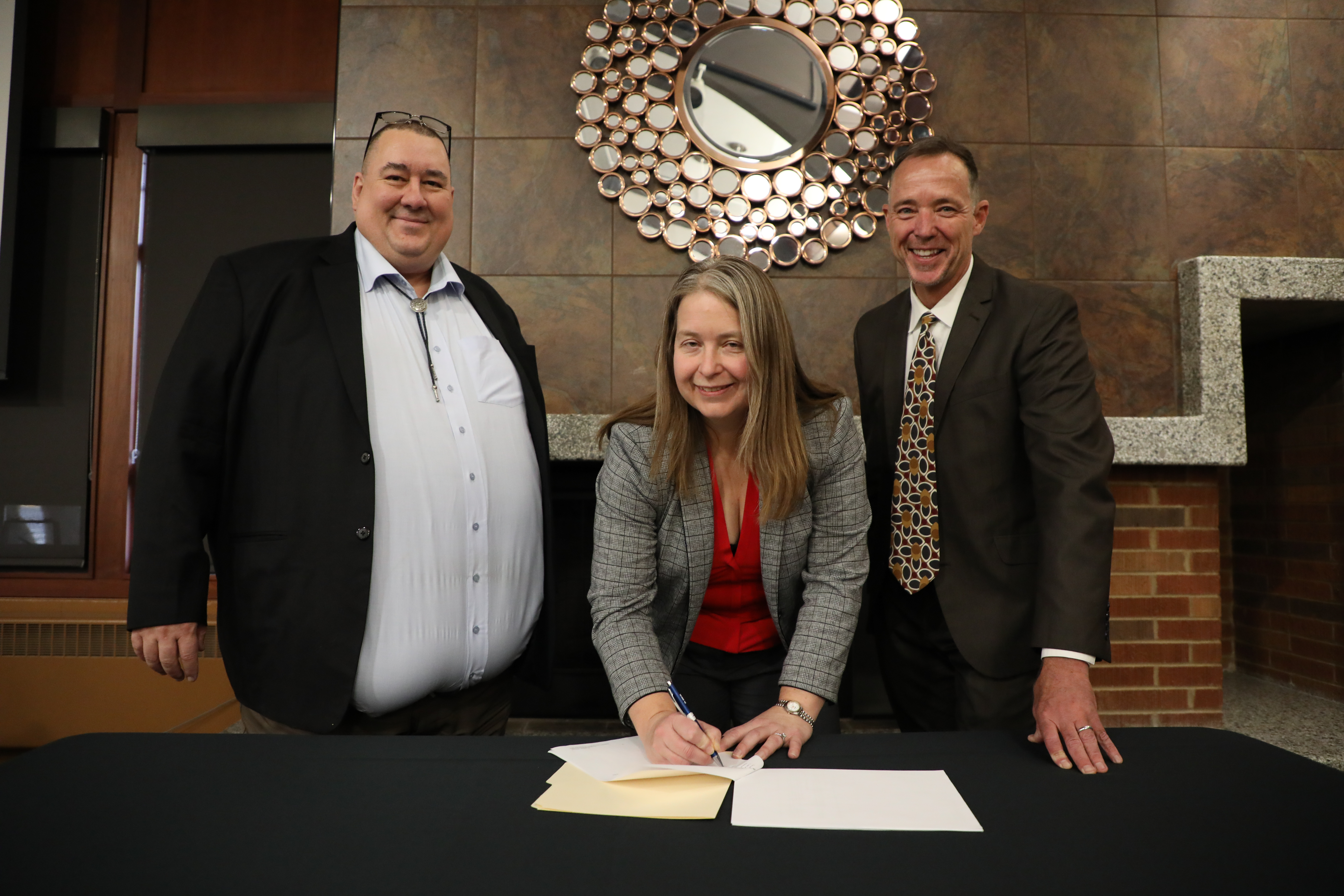 Montana Technological University (MTU) and the Naval Undersea Warfare Center Division, Keyport, will enter into a historic cooperative research and development agreement (CRADA). The agreement will be signed on November 2, 2022 at 3:30 pm in the Copper Lounge on Montana Tech's campus. The project builds from, and leverages, over ten years of research at Montana Tech in materials and manufacturing for defense applications, enabled through the support of U.S. Senator Jon Tester.

"Montana Tech has been on the forefront of research and development for decades, and our Navy will see immediate benefits from collaborating with some of Montana's brightest minds," said U.S. Senator Jon Tester. "As Chairman of the Senate Appropriations Subcommittee on Defense, I'm proud to have helped facilitate this agreement, and am confident that the students and staff at Montana Tech will work diligently to strengthen our Navy and improve national security across the board. This partnership is great news for the United States Navy, and is a strong first step in rebuilding resource and manufacturing capacity right here in Butte."

As the US Navy exits the era of the Global War on Terror and refocuses on Great Power Competition, there are many implications related to Force Structure and the application of emerging technology. The collaboration will allow employees at both institutions to jointly develop new technologies that advance advanced manufacturing, autonomy, materials, and data science, in areas that are particularly relevant to the Navy. Faculty and staff will jointly participate in the mentorship of students for future challenges foreseen by the Navy and elsewhere. This new partnership will also strategically position Montana Tech to capitalize upon critical mineral initiatives in the Inflation Reduction Act.

"Montana Tech is honored to enter into this partnership with the Navy," noted Dr. Angela Lueking, Vice Chancellor for Research at Montana Tech. "This strategic partnership provides the mechanism to develop technologies that impact national security. Importantly, the partnership will position Montana Tech students to shape the future while they obtain a practical STEM education working on real-world problems of interest to the Navy. We look forward to translating the knowledge gained and technology developed to both our educational programs as well as economic development of the region."

"The Naval Undersea Warfare Center Division, Keyport is very excited about this new Cooperative Research and Development Agreement with Montana Tech," explained Craig Bleile, US Navy Engineer and Scientist. "The agreement promises to bring the expertise of both institutions together to strengthen US Navy research and Montana Tech's mission. I can't wait to turn the talent and resources of those in Butte loose on solving the Navy's challenges."

The agreement will provide Montana Tech faculty and students opportunities to access advanced experimentations at Naval Undersea Warfare Center Division, Keyport, and expand their repertoire, including facilities in advanced manufacturing, failure analysis, materials process development, and experimentation. The agreement lays the foundation for Montana Tech students to be co-mentored directly by Navy Scientists and Engineers. In turn, Montana Tech faculty will collaborate in ideas related to advanced materials topics, and be included in conversations that provide insight into specific DoD challenges where research is needed to develop new technologies.

To commemorate this partnership, Bleile will deliver a presentation to the campus and community as part of the Montana Public Lecture Series at 4:00 pm, shortly after the signing of the CRADA. The talk is titled "The US Navy in an Era of Great Power Competition." Bleile's lecture will describe those challenges from the viewpoint of a navy technologist, and set the stage for growing and expanding the partnership. Lectures such as Bleile's also give students and community members in Butte an idea of the wide-ranging career paths engineers can take to make a difference in the world.

Others from Naval Undersea Warfare Center Division, Keyport traveling to Montana Tech to commemorate this partnership include Ira Heinzen, Thai Tran, and Jennifer Williams.

For more information, please contact Amanda Badovinac, executive director, marketing and communications at abadovinac@mtech.edu or 406-533-5894.