Richard LaDouceur - Department of Mechanical Engineering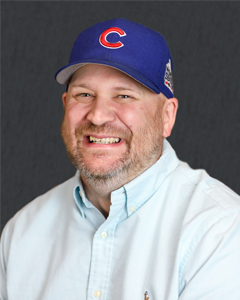 Assistant Professor
1300 West Park Street, Butte, MT 59701
Science & Engineering Building (S&E), Room 314
Phone: 406-496-4186
rladouceur@mtech.edu
Biography
Richard earned a B.S. degree in mechanical engineering from Montana Tech in 2014 and a Ph.D. in materials science from Montana Tech in 2018.
From 2000 to 2007, Richard worked for Madison Paper Company where he started as a papermaker and worked his way up to process control. Working in process control, he was responsible for quality of the paper produced at the mill. While pursuing his bachelor's Richard participated in the summer undergraduate research fellowship (SURF) program at Montana Tech and was an intern at Resodyn.   
After finishing his doctoral work at Montana Tech, Richard was an AIM fellow at Freeport McMoRan where he worked on advanced flotation simulations for PTFI Grasberg. Following the fellowship, Richard worked as a post-doctoral researcher and adjunct faculty at Montana Tech. He performs research as part of four groups: ASSL, CAMP, the Flotation group, and RTR. These groups cover a wide range of mechanical and materials engineering disciplines with Richard's focus on process design and optimization. Richard was hired in 2021 as an Assistant Professor of Mechanical Engineering. He teaches a wide range of courses related to fundamentals of processing and thermodynamics.
Dr. LaDouceur is the faculty advisor for the Society for the Advancement of Material and Process Engineering (SAMPE) student club and the Associated Students of Montana Tech (ASMT).
Courses Taught
Engineering Mechanics: Dynamics (EGEN 202)
Survey of Metallurgical and Materials Engineering (EGEN 213)
Thermodynamics I (EMEC 320)
Fundamentals of Engineering Exam (EGEN 488)
Applied Thermodynamics (EGEN 324)
Statistics for Process Engineers (EMET 595)
Composite Materials (EMAT 463)
Function and Application (MTSI 502)
Research Interests
Process Design and Optimization 
• Rare Earth Separation
Froth Flotation
• Environmental Remediation
• Additive Manufacturing
Selected Publications
LaDouceur, R., Meier, A., and V. Joshi., Wetting and Reactive Air Brazing of BSCF for Oxygen Separation Membranes, Conference Proceedings of CAMX Conference 2014, SAMPE, Orlando, FL, 2014
LaDouceur, R., Young, C., Amelunxen, P., Modeling and Optimization of Rare Earth Mineral Flotation using Salicylhydroxamic Acid, Proceedings of the XXVIII International Mineral Processing Congress, CIM, Westmount, Quebec, Canada, 2016.
Nicholas, W., LaDouceur, R., Avirmanyu, D., Young, C., Adsorption of Salicylhydroxamic Acid on the Oxides of Selected Rare Earth Elements, Proceedings of the SME Annual Conference 2016, SME, Phoenix, AZ, 2016
Amelunxen, P., LaDouceur, R., Flotation Modeling and Scale-up, SME Mineral Processing Handbook, SME, 2019
Amelunxen, P., LaDouceur, R., Amelunxen, R., Young, C., A phenomenological model of entrainment and froth recovery for interpreting laboratory flotation kinetic tests, Minerals Engineering, 2018.
LaDouceur, R., High-Fidelity Kinetic Model for Flotation: Applications to Rare Earth Elements and Copper/Molybdenum Separations, MUS Material Science Ph.D. Dissertation, Montana Tech, 2018.
Timbillah, S., LaDouceur, R., Das, A., Young, C., Orfom D8: A viable replacement for NaHS as a depressant in the chal- copyright-molybdenite flotation system, Proceedings of the 58th Conference of Metallurgists (COM 2019), CIM, Vancouver, British Columbia, Canada.
Timbillah, S., Young, C., LaDouceur, R., Das, A., Theoretical and Experimental Investigation of the Interaction of a Novel Organic Depressant, Disodium Carboxymethyl Trithiocarbonate, in Cu-Mo Flotation, Minerals Engineering, 2020
Holdsworth, P., LaDouceur, R., Young, C., Effect of frother strength on gas dispersion in a cavitation sparger measured by electrical resistance tomography, Minerals Engineering, 2020