Katie Hailer - Department of Chemistry and Geochemistry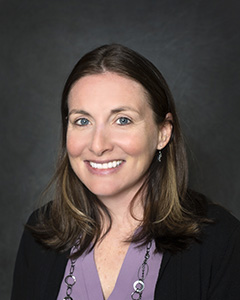 Department Head of Chemistry and Geochemistry
Professor of Organic Chemistry
B.A., Chemistry, 2001, West Virginia University
Ph.D., Bioinorganic Chemistry, 2006, The University of Montana
Oncology, Post-doc, 2007, The Mayo Clinic
Email: khailer@mtech.edu
Phone: 406-496-4117
Office: CBB 216
Courses Taught
Organic Chemistry I and II (yearly)
Biochemistry I and II (yearly)
Biochemistry Lab I and II (yearly)
Organic Chemistry Lab I and II (sometimes)
Survey of Organic and Biochemistry (sometimes)
Biosketch
Dr. Katie Hailer started her education in chemistry at West Virginia University, graduating in 2001 with a B.A. in Chemistry, summa cum laude. She then went to the University of Montana for her doctoral graduate studies in bioinorganic chemistry. Under the direction of Dr. Kent Sugden, Dr. Hailer spent her time in graduate school working to elucidate the mechanism of hexavalent chromium carcinogenesis. After graduating in 2006, she accepted a one-year postdoctoral position at the Mayo Clinic in Rochester, MN. There she worked with Dr. Scott Kaufmann again focusing on mechanisms of carcinogenicity in an oncology lab. Dr. Hailer then transitioned into a faculty position, first at Winona State University from 2007-2010, and then moving to Montana Tech in 2010. Dr. Hailer currently holds the rank of tenured, Professor and Department Head of Chemistry at Montana Tech.
Dr. Hailer is best described as a bioinorganic chemist. Her research has always focused on metal interactions in living systems. Montana Tech is in Butte, MT which also happens to be one of the largest Superfund sites in the United States. Using the historical environmental contamination and current open-pit mining activities as inspiration, Dr. Hailer now focuses her research on measuring and identifying metals in the people that live and work in Butte, MT. Her research has been most recently funded by the National Institutes of Health INBRE grant.
Publications
Katie Hailer, Christopher P. Peck, Michael W. Calhoun*, Robert F. West*, Kyle J. James and Steven D. Siciliano. Assessing human metal accumulations in an urban superfund site. Environ. Tox. and Pharmacol. 54 (2017) 112-119.
Andriolo JM, Rossi RJ, McConnell CA, Connors BI, Trout KL, Hailer M Katie, Pedulla ML, Skinner JL. Influence of iron-doped apatite nanoparticles on viral infection examined in bacterial versus algal systems. IEEE Nanobiosci, 99 (2016).
Jessica M. Andriolo, Ryan M. Hensleigh*, Casey A. McConnell*, Marisa Pedulla, Katie Hailer, Rajendra Kasinath, Gary Wyss, William Gleason, and Jack L. Skinner. Iron –doped apatite nanoparticles for improvement of phage therapy. Journal of Vacuum Science and Technology B. 2014; 32(6)
Son B. Le, Katie Hailer, Sarah Buhrow, Qi Wang, Karen Flatten, Peter Pediaditakis, Keith C. Bible, Lionel D. Lewis, Edward A. Sausville, Yuan-Ping Pang, Matthew M. Ames, John J. Lemasters, Ekhson L. Holmuhamedov, and Scott H. Kaufmann. Inhibition of mitochondrial respiration as a source of adaphostin-induced reactive oxygen species and cytotoxicity. Journal of Biological Chemistry 2007; 282(12): 8860-8872.
Katie Hailer, Peter G. Slade, Brooke, D. Martin, Thomas A. Rosenquist, and Kent D. Sugden. Recognition of the Oxidized Lesions Spiroiminodihydantoin and Guanidinohydantoin in Double-Stranded DNA by the Mammalian Base Excision Repair Glycosylases Neil1 and Neil2. DNA Repair. 2005 Jan 2; 4(1):41-50.
Peter G. Slade, Katie Hailer, Brooke D. Martin, and Kent D. Sugden. Guanine-specific oxidation of double stranded DNA by Cr(VI) and ascorbic acid forms spiroiminodihydantoin and 8-Oxo-2'-deoxyguanosine. Chemical Research in Toxicology 2005; 18(7), 1140-1149.
Katie Hailer, Peter G. Slade, Brooke D. Martin, and Kent D. Sugden. Nei deficient Escherichia coli are sensitive to chromate and accumulate the oxidized guanine lesion spiroiminodihydantoin. Chemical Research in Toxicology 2005; 18(9): 1378-1383.
Jessica M. Andriolo, Nathan J. Sutton*, John P. Murphy, Lane G. Huston*, Emily A. Kooistra-Manning*, Robert F. West, Marisa L. Pedulla, M. Katie Hailer, Jack L. Skinner. Electrospun Fibers for controlled release of nanoparticle-assisted phage therapy treatment of topical wounds. MRS Advances. (2018) 3019-3025.
S. McDermott, M.K. Hailer, J.R. Lead. Meconium identifies high levels of metals in newborns from a mining community in the U.S. Sci. of Tot. Environ. (2019). https://doi.org/10.1016/j.scitotenv.2019.135528
Berrington, B., Alley, K*., Bosch, K*., Thomas, K*., Hailer, K., Prieto-Centurion, D. Preparation of Expanded Chitin Foams and their Use in the Removal of Aqueous Copper. <em>J. Vis. Exp.</em> (168), e62301, doi:10.3791/62301 (2021).
*denotes undergraduate researchers
Patent Information
US Patent Ap. No. 16421108 
Particle Delivery via Small-Scale Morphology Materials for Antibacterial Applications
May 23, 2019
Notification of Patent Issuance Granted as of 11/4/21
US Patent Ap. No. 15902272 
Antiviral Composition and Applications of Iron-Doped Apatite Nanoparticles
February, 22, 2018
Granted 2019
Pub. No.: US 2020/0114020 A1
US Patent Ap. No. 15166192 
Method of Particulate Transport via Small-Scale Morphology Materials
May 26, 2016
Granted 2019
Pub. No.: US 10,392,612 B