2015 Graduate Profiles: Jesse Bowden
05/14/2015
Graduate   School  
Master of Science in Metallurgical/Mineral Processing Engineering
Bachelor of Science in Chemistry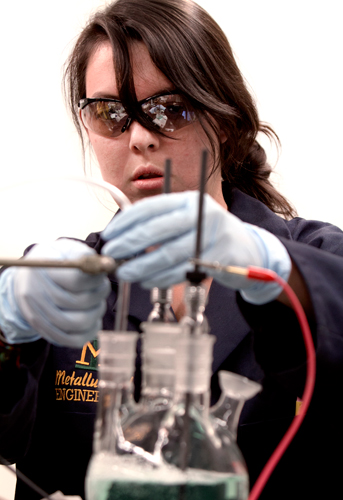 Jesse Bowden graduated in 2008 from Newbury Park High School in southern California. She was recruited to Montana Tech on a volleyball scholarship and played for four years as a lady Oredigger.
Although her original intent after graduating high school was to become a chemical engineer, she studied for and eventually received her B.S. in Metallurgical and Materials Engineering, which she thinks is a more unique and exciting form of chemical engineering. During her undergraduate studies, she was involved in research studying the effects of novel nanographene material as an adsorbate to aid in the removal of arsenic from waste water.
After graduating with her bachelor's degree in 2013, Jesse decided to continue her education at Montana Tech by pursuing her M.S. in Metallurgical Engineering as well as her B.S. in Chemistry. For her graduate studies, Jesse's research encompassed the electrochemical measurements and study of surface interactions of chalcopyrite in solution with industrial chemicals used for copper extraction. Her most exciting experience in this research was receiving a grant to travel to Australia to work with Griffith University and use their resources to advance her findings.
"It was my first time out of the country and to be able to make those international connections and learn from one of the most recognized authors in my field was an unbelievable experience," she explains. "I also got to hold a Koala!"
In 2014, Jesse finished her course work and research and took a job in Calipatria, California at a lithium extraction pilot plant while she continued to write her thesis. She worked there for nine months before returning in April 2015 to defend her thesis and complete her master's degree. She plans to return to work in southern California upon graduation where she will be able to spend time with her parents and three siblings.
Jesse attributes her success to the opportunities she was given at Montana Tech as well as the guidance and support of the faculty in what she describes as "a small, familial department."
"I always found myself enjoying tutoring and helping out other students through the course of my time here," Jesse adds. "I hope to maybe someday land a role as a professor where I can provide the same mentorship and guidance that richly heightened my experience at Montana Tech."