2015 Graduate Profiles: Karsan Sprague
05/12/2015
School   of   Mines
Bachelor of Science in Petroleum Engineering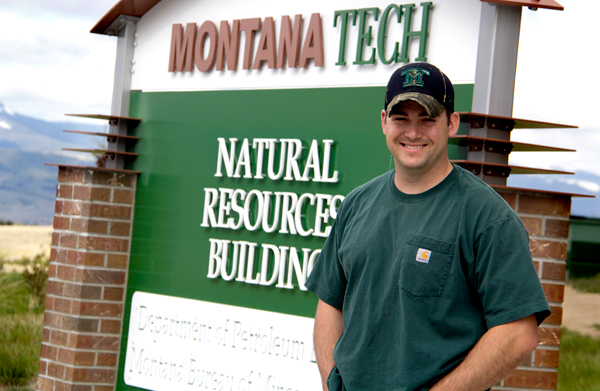 Karsan Sprague grew up in Great Falls, Montana where he graduated high school from Charles M. Russell High School in 2002.
After graduation, he spent almost nine years in the U.S. Army stationed in Ft. Campbell, Kentucky. During his career in the Army he spent seven years in the Infantry, deploying to Iraq twice during that span. During his second deployment he was promoted to Staff Sergeant and placed in charge of a nine-man squad throughout the deployment.
Karsan became a single parent when he was redeployed back to the states and spent the remaining two years of his enlistment as an instructor preparing solders to deploy oversees to either Iraq or Afghanistan. He finished his enlistment and received an Honorable Discharge in 2011.
As a single parent, Karsan decided it is was time to explore other opportunities for a fulfilling career that could support his son Jordan. He settled on the engineering field and began researching careers in oil and gas exploration and production. While researching universities that offered petroleum engineering degrees, he found Montana Tech and learned about the college's extremely high job placement rates after graduation.
Being from Montana, Karsan wanted to stay in the state and share the experience with his son.
After finishing his Army career in June 2011, he started school in August 2011 at Montana Tech. Karsan enjoyed the size of the campus and how approachable his professors were when he needed help. He was offered an internship after his second year of college to work for Devon Energy, where he spent a summer in Riverton, Wyoming working in an older gas field trying to optimize plunger lift wells.
The summer after his third year, Karsan worked in Oklahoma City, Oklahoma for Devon Energy as a reservoir engineer working to understand the responsibilities of what a full-time engineer does.
"I really value those experiences because when I got into core classes for petroleum at Montana Tech I was able to understand what the professors were talking about," Karsan explains.
He will be starting with Devon Energy full-time after graduating from Montana Tech.
During Karsan's spare time he enjoys taking his son out to explore the Montana wilderness. They've enjoyed doing many activities including hiking, hunting, fishing, camping, and cross-country skiing.