2015 Graduate Profiles: Lindsay Carlson
05/11/2015
College   of   Letters,   Sciences   &   Professional   Studies
Bachelor of Science in Biological Sciences, Cellular & Molecular Track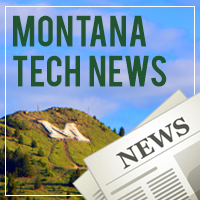 Lindsay Carlson is a unique and talented student. Besides her high GPA, which is derived from grades earned in a suite of challenging classes, she is also an excellent researcher.
While at Montana Tech, she wrote two successful research proposals and received funding for her research from the Montana University System's Institute on Ecosystems and Montana Tech's Undergraduate Research Program. Lindsay wrote professional proposals, communicated with many professionals and arranged logistics for her backcountry research.
In the summer of 2014, Lindsay conducted her research in the heart of the Bob Marshall Wilderness and presented a paper at the University System's Institute on Ecosystems summer meeting. She also contributed to field research on alpine plants and snowfields in Glacier National Park. As a result of this contribution, she served as a co-author on a related poster at the American Geophysical Union's Fall Meeting held in San Francisco, Calif. in December 2014. She is also a co-author on an accepted peer-reviewed paper to be presented at the Microscopy and Microanalysis meeting in Portland, Ore. in August 2015.
Lindsay graduated from Montana Tech in December 2014. She interviewed at three universities for graduate work and selected Utah State University for her masters work. She began her graduate work in January 2015 and will be examining the effect of climate change on tundra vegetation and goose ecology on the Yukon Kuskoqwim Delta in Alaska. Lindsay held a nearly full-time job during her undergraduate education and still managed to graduate one semester early.
Lindsay enjoys outdoors interests such as skiing, backpacking and mountain biking.