Montana Tech Engineering Students Excel at Competition
02/12/2015
February 12, 2015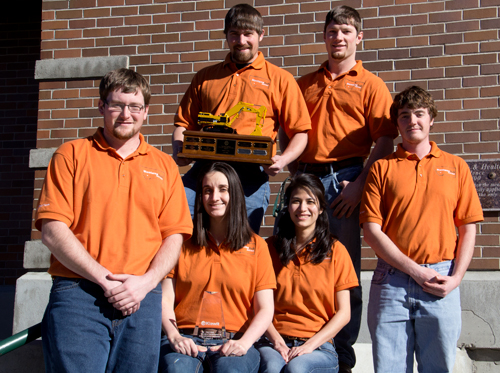 Montana Tech engineering students took home the first-place trophy for its students' hands-on ability to estimate a multi-million dollar project and produce a real-world bid in the heavy civil engineering category of the Associated Schools of Construction Competition (ASC) held in Reno, Nevada on February 4 through the 7.
Montana Tech sent twenty-four students to the ASC Region 6 2015 Student Competition. One of Montana Tech's engineering teams placed first in the heavy civil competition followed by teams from Colorado State University and Northern Arizona University. ASC is the professional association for the development and advancement of construction education, where the sharing of ideas and knowledge inspires, guides and promotes excellence in curricula, teaching, research and service.
Montana Tech's winning team consisted of Luke Seubert, Travis Craig, Lamia Al-Wahaibi, Ryan Pearson, Aaron Sessions and Bethany McAuley. The university competed against schools from Alaska, Arizona, Colorado, Idaho, Montana, Nevada, New Mexico, Utah, and Wyoming.
The teams from Montana Tech competed in various construction project classifications. The heavy civil team and the commercial building team competed by developing a project "binder" over a 16 hour period. The binder included a construction plan, staffing and equipment requirements, risk analysis, safety plan, quality assurance plan and project costs. After their 16 hour project effort, the students were then tasked with creating a 20 minute professional presentation given the following morning. The project completed at this year's competition was a $37 million road and bridge construction project located on an island in Alaska.
"The sponsors take this competition very seriously as the competition work is the same as the work the students will perform upon entering the workforce," noted Larry Hunter, assistant professor of practice in the General Engineering Department at Montana Tech and ASC Club advisor. "Preparation for the competition requires a tremendous commitment of time and effort from our students during the fall semester. I am very proud of their effort and dedication this year. We competed against top universities and to bring home first place in the heavy civil category and impressed many faculty and industry participants at the competition."
For more information, please contact Larry Hunter at 406-496-4770.