Highlands College Conducts Psychology Student Project Celebration
11/06/2014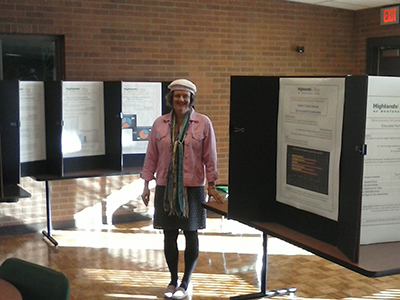 Highlands College held its First Annual Fall Psychology Student Research, Creative and Scholarly Activity Celebration on campus today and will continue the event tomorrow. The event features poster presentations from 48 students in the Introduction to Psychology classes. All students, faculty, staff and the greater Butte Community are invited to view the students' poster presentations all day on Friday. Students will be standing at their posters at noon.
"Doing this research project in-class really turned out to be a lot of fun," said Psychology student, Lillian Carroll. "At first, the idea of actually doing this project and all of the analysis of the data seemed kind of overwhelming. But once we understood the research process, we really got into it. I never imagined myself doing this kind of a project. "
As part of their coursework, students learned about research and the process of research. Each student had to develop a research purpose and some measureable research questions. Each then conducted his/her project, through an in-class survey process. The students then transformed their data into understandable graphs or tables. Each student's project was then transformed into a poster for presentation for the Student Research, Creative and Scholarly Activity Celebration.
Students participated in a "Climb Research Mountain" learning activity / game which was a combined effort between Helena College and Highlands College faculty. Material costs were shared by both institutions with game boards and tokens. The game was designed by Mike Cronin, Writing Instructor of Helena College; Elizabeth Karr, Library Studies Instructor of Helena College and Elyse Lovell, General Studies Instructor of Highlands College.
"We are very proud of our students," said Highlands College Faculty, Dr. Elyse Lovell. "Research is hard work, but it is also very fulfilling. Conducting research requires critical thinking, organization, persistence and motivation; the same skills students will need throughout their lives. I hope people choose to visit our Highlands College First Annual Fall Psychology Student Research, Creative and Scholarly Activity Celebration and enjoy seeing and learning about the myriad of topics."
For any further information about this event, please contact Dr. John M. Garic, Dean, at 406-496-3714 or Dr. Elyse D. Lovell at elovell@mtech.edu.