Montana Tech Awarded Military Friendly Schools Designation
09/23/2014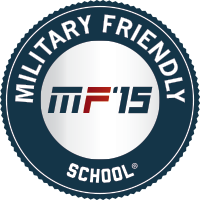 Montana Tech announced today that it has been designated a 2015 Military Friendly® School by Victory Media, the leader in successfully connecting the military and civilian worlds.
Now in its sixth year, the Military Friendly® Schools designation and list by Victory Media is the premier, trusted resource for post-military success. Military Friendly® provides service members transparent, data-driven ratings about post-military education and career opportunities.
The Military Friendly® Schools designation is awarded to the top 15 percent of colleges, universities and trade schools in the country that are doing the most to embrace military students, and to dedicate resources to ensure their success in the classroom and after graduation. The methodology used for making the Military Friendly® Schools list has changed the student veteran landscape to one much more transparent, and has played a significant role over the past six years in capturing and advancing best practices to support military students across the country.
"Montana Tech is pleased to be listed as a Military Friendly School again," announced Montana Tech Chancellor Don Blackketter. "We currently have 118 students certified with education benefits through the VA and are always working to make sure they receive the necessary services to succeed at Montana Tech. Our new VISTA, Mike Hall, is currently completing a needs assessment of our student veteran population to determine if Montana Tech should provide any additional services to our student veterans."
The survey captures over 50 leading practices in supporting military students and is available free of charge to the more than 8,000 schools approved for Post-9/11 GI Bill® funding. For more information about Montana Tech's commitment to attracting and supporting military students, visit http://www.mtech.edu/veterans/.