Resume Guide
A resume is designed to concisely summarize your experience.
The information on this page is a compilation of opinions and tips based on years of working with employers and reviewing student resumes. Please consider these tips, but know that everyone will give you a different opinion. If you like it, keep it; if not, don't. 
This Resume Guide is a sample layout and includes the most important resume information. It is recommended as a guide for content, not design.
Templates
Do not use templates! You risk having your resume look like other resumes for the position. It is ok to visually format your resume like a template but start with a blank word processing document. The formatting of templates is often distorted when converted through online application processes or worse, the text is not recognized by the software. This means, if the company uses an applicant tracking system, your application may not make it through the screening. Make your resume stand out from the crowd – use your own style.
Resume Length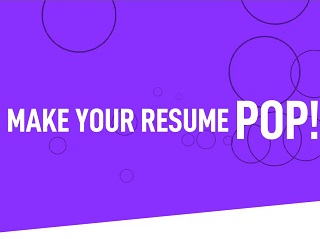 Make Your Resume POP
CareerSpots.com © 2017
With less than 5 years of related experience, a resume should be limited to one page. (Employers report that they prefer one concise page; they review each resume for less than 20 seconds.) It is ok to have a separate page for professional references; include your name and contact information at the top of the page. With extensive experience, a resume should never exceed two pages.  An exception is a Curriculum Vitae or resume for an individual applying for academic positions.
Heading
Name (Make it clear and easy to read.)
Street Address (Use the address where an employer can reach you now; including a permanent address also is fine. Remove if you are posting to job search sites.)
City, State  Zip
Telephone Number (Use the best number or numbers to reach you.)
Email (Use the account you check regularly; create a professional email address if you don't have one: your name@carrier.com, for example. Do not underline your email address.)
Education
Use two lines or less for each school. Include the following:
Degree/Major (i.e. General Engineering, Civil Option; Business Information Technology, Accounting Option, etc.) 
Name of the School (Montana Tech or Montana Tech of The University of Montana or Montana Tech Highlands College.)
City, State (Butte, MT)
GPA (List your exact GPA; do not estimate or round. If it is 3.00 or less, consider excluding, but be honest if employers ask for it. Know what employers expect as their minimum.)
Anticipated Graduation Date (December 2016, May 2017, etc.)
Work Experience
List the heading as "Work Experience" rather than "Work History" with details about the skills gained at each position.
Dates Employed (Use a "From – To" format. For summer/internships, "summer 2012" or "summers 2010, 2011, 2012," etc. is sufficient.)
Employer (Company Name; include City, State if space permits; exclude supervisor information.)
Position Title (Engineering Intern, Accounting Intern, Database Technician, etc.)
Key Responsibilities (2-3 main duties)
Begin bullet points with Action Verbs (present tense for present job; past tense for past jobs)
Delivered materials to job sites
Trained new employees
Supervised and trained employees in HAZMAT
Delivered pizza in a timely fashion
Investigated, mediated, and resolved problems
Provided excellent customer service
Handled cash
Describe how you demonstrate(d) skills within experiences, but do not repeat the same skill. If you have had similar positions, focus on what is different or unique.
Other Information (list specific headings: honors, organizations, activities, etc.)
Each person has different skills and sections on the resume. Depending upon what your past experiences include, there may be additional sections you can include on your resume. See Resume Guide; include only relevant headings and information that will help you get that "next" job. 
References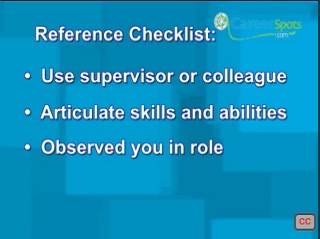 Strong References
CareerSpots.com © 2017
Employers report that they do not prefer the "references available" statement.  We recommend removing it or adding your professional references to page two with your name and contact information at the top.
• Typically employers request 3 professional references. Professional means that that person can talk about your work skills. 
• Ask the person's permission and if they will give you a good reference.
• Who is going to be able to best talk about your skills in the workplace?
Resume Dos and Don'ts

| DO | DO NOT |
| --- | --- |
| • make it easy to read | • use distortions or lies |
| • be specific if using an objective statement | • be too long |
| • list education before experience | • have errors/misspellings |
| • use action verbs | • lack specifics |
| • use results language (your achievements) | • repeat the information in a summary at the top |
| • show what you can add to the company | • list irrelevant information/materials |
| • use consistent punctuation and headings | • include high school graduation date (it is an age indicator) |
| • list all information in reverse chronological order | • use personal pronouns (except sometimes in objective statement) |
| • use concise phrases rather than sentences & paragraphs | • include personal information (age, birth date, sex, religion, marital status, citizenship, etc) |
| • provide a list of skills (describe these within the appropriate experience section) |   |
Resume Reviews
Upload your resume to DR 2.0. The resume is automatically reviewed and we will give you feedback. Email your resume review request to careerservices@mtech.edu with a copy of your resume.  Contact Career Services for additional information, stop by University Relations Center Room 109, email careerservices@mtech.edu or call 406-496-4140.
You can always schedule a one-on-one appointment too!