Montana   Tech   Recycling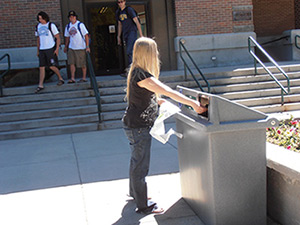 In 1997, Environmental Engineering students couldn't understand why Montana Tech didn't have a recycling program. After a little research, it was determined that many students had started fledging programs but when the student graduated, the program ceased. After much urging by students, a staff member decided to start a program that would sustain itself into the future. The program struggled through the years with no funding and working with various state and local recycling agencies but continued to grow each year with the help of many volunteering staff members. Then in 2012, Montana Tech recycling program progressed by leaps and bounds. First Montana Tech won a national recycling logo contest which provided $5,000 worth of good quality bins through Busch System and a month later Tech received a grant for 32 new recycling bins through "Keep America Beautiful" and Coca Cola. Pepsi also donated eight Pepsi bottle bins for plastics and cans. Montana Tech's recycling program has progressed from labeled cardboard boxes to good products that will take us into the future of sustainability.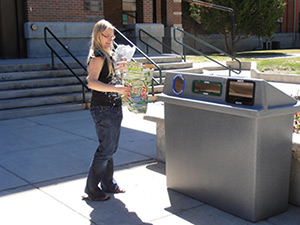 Montana Tech is currently in collaboration with AWARE Butte Recycling, a local non-profit organization that employs the handicapped to sort recycling materials to go to market. They provide one or two 55-gallon bins for each building on campus. Custodians deliver their building's recycling to these larger bins, and each Thursday, Butte Recycling picks it up for sorting and distribution.
Montana Tech's Recycling Committee would like to thank everyone involved in recycling at Montana Tech. Special thanks goes out to the custodians and grounds crew that help get Tech's recycling to designated building bins for pickup by Butte Recycling. WAY TO GO TECH!!
NOW there is no excuse for anyone on campus to not recycle!! Remember the 5-R's –
RETHINK, REDUCE, REUSE, RECYCLE AND RECOVER!!